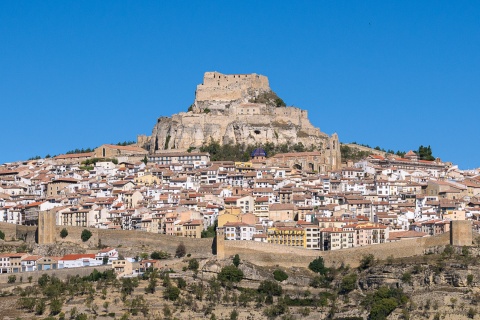 The Maestrazgo, five reasons to disconnect
5

Rural atmosphere and disconnection

Small villages framed by breathtaking natural landscapes, perfect for switching off from daily stress. It's very easy to get to. For example, from Madrid it takes less than four hours to reach Allepuz, one of the villages in the western most part of the region. It takes around two hours to get from the city of Valencia to the southern region of the Maestrazgo. You can travel from another great city, Zaragoza, to the northern part of the region in just over two hours. But wherever you visit in Maestrazgo, you can expect a very warm welcome from its people. The hospitality in this region is very special, and you will be made to feel at home from the moment you arrive.  

5

Unique towns and villages

First of all, we need to differentiate the Maestrazgo east of the province of Teruel and the regions of Alt and Baix Maestrat, to the north of Castellón. So you can make your first stop at an altitude of 1,300 metres (Villarroya de los Pinares) and end your day with a dip in the Mediterranean Sea (Vinaroz). But on this list you will find some of the most iconic towns and villages that, centuries ago, formed part of a Maestrazgo forged by history and legend. Cantavieja: with one of the most relevant and attractive historical ensembles in the province, a visit to Cantavieja is highly recommended. It is perched on the edge of a limestone precipice and is the historical capital of Teruel. From cave paintings to stories of the Templar Knights or the Carlist Wars. If you venture inside Cantavieja, don't forget to visit the Church of San Miguel and the famous Casa del Bayle. Mirambel: if you are searching for the definition of a charming village you are sure to find a photo of Mirambel. Scarcely 15 minutes drive from Cantavieja and almost on the border with Castellón, you will find a village straight out of a film. In fact, several films have been filmed there thanks to its location and unique architecture.With just over 100 inhabitants, this walled village appears to have stood still in time, inviting you to unwind and take a stroll though it cobblestone streets lined with magnificent buildings like the Aliaga and Castellot palaces. Ares del Maestrat (also known as Ares del Maestre): picturesque is the word that best describes this municipality in Castellón where,according to history, James I started the conquest of the Kingdom of Valencia.As soon as you arrive you will be eager to pause on a bend and take a photo of this spectacular enclave. And if it looks attractive from afar, wait until you arrive on the streets to discover such gems as the Church of the Verge de l'Assumpció, the ruins of the Templar castle or the Beltrans Tower. Morella: although it is currently located in the Castellón province of Els Ports, Morella is a gem of Maestrazgo that you simply can't miss. It has formed part of Spain's network of prettiest villages since 2013.With a Mediterranean but high mountain climate, it is the perfect village to visit and fall in love with all year round. Its walls, castle and spectacular Santa María Church all make Morella a destination you will want to keep going back to.

5

Food and drink

If one thing needs to be highlighted, it is the traditional cuisine of this area, made with local, quality products that transform every dish into a festival of flavours.The ham and Tronchón cheese serve to whet your appetite, although the famous preserves prepared in olive oil accompanied with bread baked in a wood burning oven will also do the trick.If you like soups and stews, you are in the right place. Hearty casseroles, broths and stews are sure to warm you up, even more so when paired with one of the great local wines. What's more, with star products to choose from like the lamb, trout or mushrooms, every meal is a feast.Not to mention Maestrazgo's traditional pastry-making. The biscuits, mantecados (shortbreads) and flavours, such as anise or rosemary honey, will leave you planning your next meal while you are still eating. 

5

History and traditions

Iberians, Celts, Romans, Muslims and Christians All these cultures have left their mark and an important heritage in this region. In 1131, the Order of the Temple was established in the region, thus marking its traditions and festivities.If you visit in the spring, you will find popular processions such as the Villarluengo (at the end of April) or the Castellote (beginning of May), with the summer being the best moment for its popular festivals.In winter, despite the cold weather, there are large bonfires in honour of San Antonio Abad, together with the blessing of animals and sharing out of biscuits, attracting locals and tourists alike for a magical evening next to the bonfire.

5

Land of adventure

The incredible landscapes of the Maestrazgo create the perfect setting for hiking along the paths such as Los Pilones or up to the source of the river Pitarque. There are also activities for adrenaline junkies.Cast away your stress doing a spot of rafting down the river Guadalope, enjoy aqua-trekking in Castellote or venture inside a cave while you are caving in Boca Negra or la Sima de la Rama (Fortanete).
What to do
Travel plans for inspiring you
---