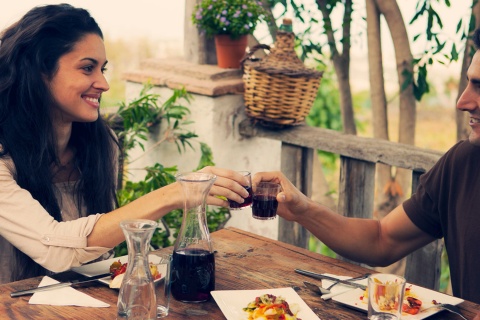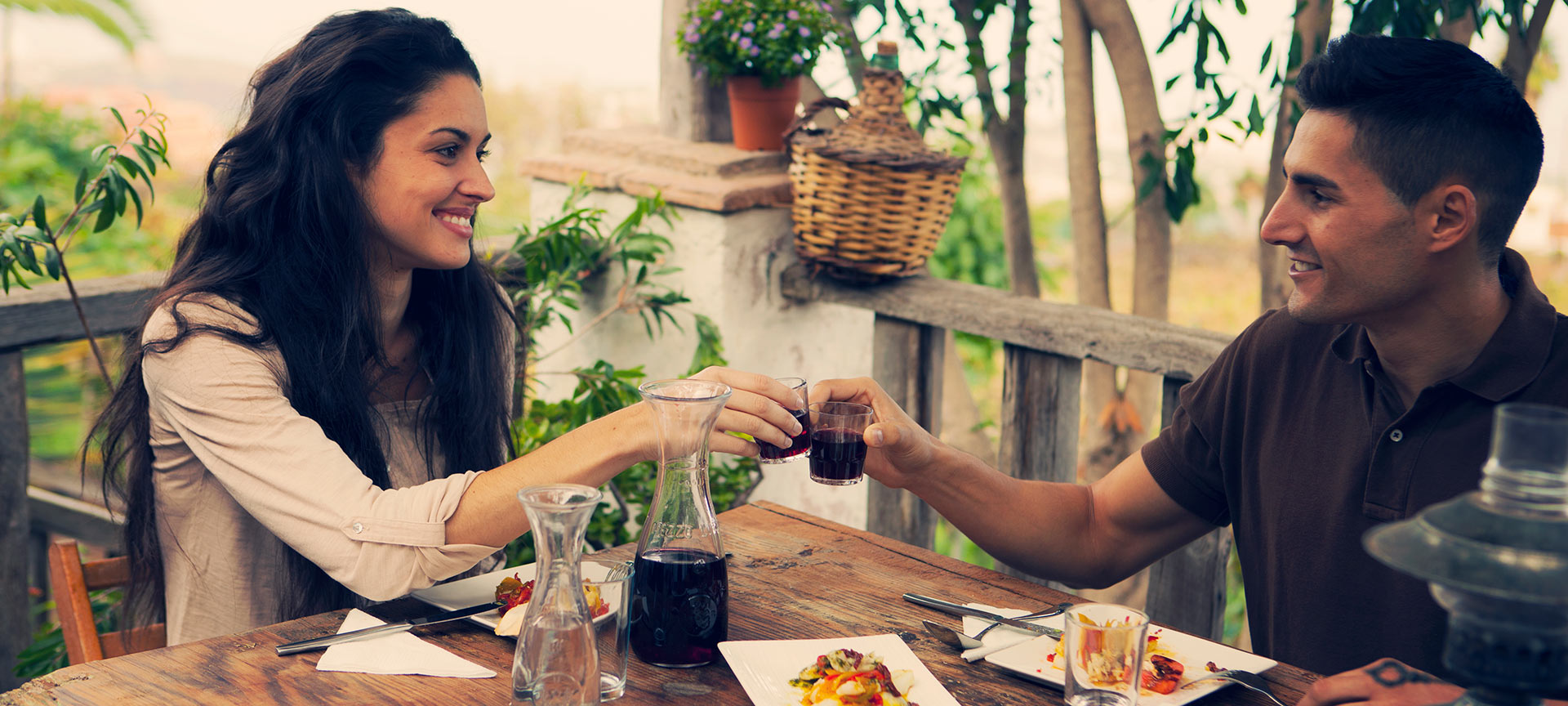 The culinary getaways Spaniards love
Spanish people love good food, and Spain is full of destinations perfect for the discerning foodie. Places that are worth a trip for their culinary traditions and special dishes alone. In addition to delicious tapas you'll get anywhere in Spain, we also have 17 foodie getaway suggestions for you.
Wine tasting in La Rioja and Rioja Alavesa

Wines from this area in northern Spain are among the most appreciated worldwide, so a tasting session at a local winery is sure to be a great experience. You can find anything from small family wineries to the striking avant-garde buildings of established wineries like Marqués de Riscal or Ysios. Wine culture is very important here, and as well as tastings you can try many more activities, such as yoga among the vineyards, star-gazing, horse riding, hot-air ballooning, Segway tours…

Pintxos in Donostia-San Sebastián

Visiting the different bars of this lovely city and finding counters laden with pintxos is a spectacular culinary experience. You've probably heard of Spanish tapas. Pintxosare somewhat similar, albeit traditional to the Basque Country, with the food usually placed on a piece of bread and skewered with a toothpick, though there are increasingly more creative ways of presenting them. Try as many different hot and cold ones as you can. They really are miniature haute cuisine! A drink to go with them? How about a txakoli wine, a small glass (zurito) of beer, or a cider? Here's a list of the 99 best pintxos of Donostia-San Sebastián, selected by 11 local Michelin-starred chefs.

Suckling lamb in Aranda de Duero

The best time to go is during the Roast Suckling Lamb Gastronomic Fair in June, where the menus of asadores (roasting restaurants) in Aranda (Burgos, Castile and Leon) feature local products and you can visit interesting underground wine cellars. This area is also part of the Ribera del Duero region, and its wines are justly famous. Another traditional and iconic dish of Castile and Leon? Segovia's roast suckling pig.

A volcano in your glass?

Don't worry, we're just talking about the vineyards of La Geria in Lanzarote, one of the volcanic Canary Islands. The area produces white and sweet volcanic wines - the vines grow in hollows which farmers carve out from the volcanic gravel. Many of these wines have won international awards, such as the Malvasía varieties. Did you know that Shakespeare refers to this type of wine in several of his plays?

Tuck into a calçotada

This century-old Catalan culinary tradition is all about feasting on calçots with your hands, savouring the salvitxada sauce and just having a great time with friends. So what are calçots? A type of long, white, mild onion which are barbecued and eaten in a unique way - there are even special bibs to keep you clean! The best culinary tours for enjoying calçots go through Valls (Tarragona), and if possible, you should go on the last Sunday of January to catch Great Calçotada festival. If you try this tradition, you're likely to end up a little dirty, and very full.

A Galician spell to keep evil at bay

The spell is recited over the queimada, a drink based on marc, with a ritual preparation designed to ward off evil spirits. The liquid is burned and stirred with a wooden spoon. While the flames are burning, the spell is spoken out loud. We recommend this experience in any of the Galician bars which organise it. Something else you shouldn't pass up when in Galicia: its most emblematic dish: pulpo á feira, made with cooked octopus sprinkled with paprika, usually garnished with cachelos (boiled potatoes with skin) and drizzled with olive oil.

The only cider in the world poured from a height

It's made in Asturias. Cider here is served in such a unique way that a verb was invented - escanciar: the bottle is held high in one hand and poured into the glass held as low as possible in the other. The best way to enjoy this ritual is at an espicha or traditional dinner. When in Asturias, you absolutely must try fabada and cachopo. These dishes are substantial... and delicious!

Let's go to market

More and more old food markets in Spain are being reinvented and relaunched as gourmet food markets offering innovative culinary delights. We can even recommend one of the most famous: Boquería, in the heart of Barcelona and a must-see when visiting the city. Legend has it that there were open-air stalls in this area as early as the 13th century, although it was officially opened in 1840. Nowadays, you'll not only find bars and restaurants that will cook with products from the market, but you can also book activities such as Spanish cooking courses, Catalan tapas and wine classes or a tasting with wine pairing.

The art of skewering sardines on the Costa del Sol

This highly addictive way of preparing, serving and eating fish has been popular in this part of Andalusia since the 19th century. While you can order this dish at virtually any restaurant, you'll get the most authentic experience at the beach bars known as chiringuitos. But what is an espeto? It's a way of threading sardines onto bamboo and cooking them over a charcoal grill, on a boat or on the beach. By the way, using a knife and fork to eat an espeto of sardines is frowned upon!

Keeping the cold out with cocido

There are endless regional variants of this traditional Spanish long-simmered stew: cocido lebaniego in Cantabria, cocido maragato in León, pote in Asturias… But here we want to focus on Madrid's cocido madrileño, famously served in "three goes": soup, chickpeas and vegetables, and, finally, the meats. On top of that, between February and March, the Ruta del Cocido Madrileño (Madrid Cocido Route) is held throughout the Region of Madrid, taking place in several restaurants.

Queso Manchego, a unique cheese

If you visit Castile-La Mancha it's pretty much inevitable you'll bring one of these cheeses home with you. Manchego is a delicious sheep's milk cheese which matures over a period ranging from a month to two years, and comes in three varieties: soft, semi-cured and cured. The best way to find out more about it is a visit to one of the local cheesemakers.

A sea of olive groves in Jaén

Did you know that the province of Jaén, with its more than 60 million olive trees, produces 20% of the world's olive oil? The oil shapes its landscapes, its food, and even its culture. As well as enjoying the local extra virgin olive oil, there are plenty of related experiences to try, such as visiting oil mills; tasting and pairing oils, wines and foods; visiting olive oil museums and visitors' centres; hiking through olive groves; and spending the night in the country guest houses at the centre of oil-producing estates.

Paella by the sea in Valencia

Paellas taste so good in Valencia, the city where they originated! Could you enjoy them even more? Yes, next to the sea, on one of the many restaurant terraces on seafront promenades. Another sure bet is the region of El Palmar, famous for its paellas, in the heart of the rice fields of La Albufera. If you also want to spice up your culinary experience, why not take a boat trip on the lagoon of the Albufera Natural Park, or go on a day trip to the vegetable garden, or sign up for a paella cooking course?

The Iberico Ham Route in Extremadura

Spain features a range of different routes for discovering the world of sensations that come with sampling Iberian ham, although one of the most famous places to do so is Extremadura. The activities organised there include visits to drying sheds, tasting sessions, hiking in the extensive Extremadura dehesa… Fun fact: The town of Monesterio celebrates Ham Day in September, featuring popular tastings, ham-cutting competitions, etc.

The best caldereta de langosta in Menorca

This Mediterranean island of turquoise coves possesses a particularly scrumptious speciality: lobster caldereta. While you can savour it anywhere in Menorca, the town of Fornells is the "temple" for this recipe. In most restaurants in this area, booking in advance is essential. Rest assured, it's worth the effort! And here's another tip - as the sun sets, you can stroll over to the iconic cove, Cova d´en Xoroi, where you can enjoy a drink and some tapas with an amazing view of the sea.

Chestnuts for All Saints

Castanyada in Catalonia, amagüestu in Asturias, magosta in Cantabria, gaztainerre in the Basque Country, chaquetía in Extremadura, magosto in Galicia… But despite the different names, all these fiestas are held on All Saints' Day, 1 November. It's traditional to roast chestnuts at gatherings, while sharing other products like chestnut cake, cider or chocolate, accompanied by live music and other activities.

And to finish… A star turn

It can sometimes be tricky to reserve a table at one of the Spanish restaurants with 3 Michelin stars, but it's worth treating yourself at least once, because prestigious chefs like Dabiz Muñoz, the Roca brothers, Martín Berasategui and Arzak create amazing culinary universes.