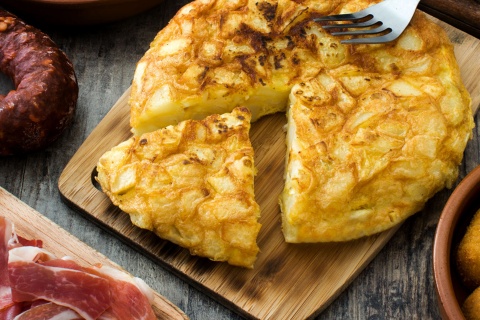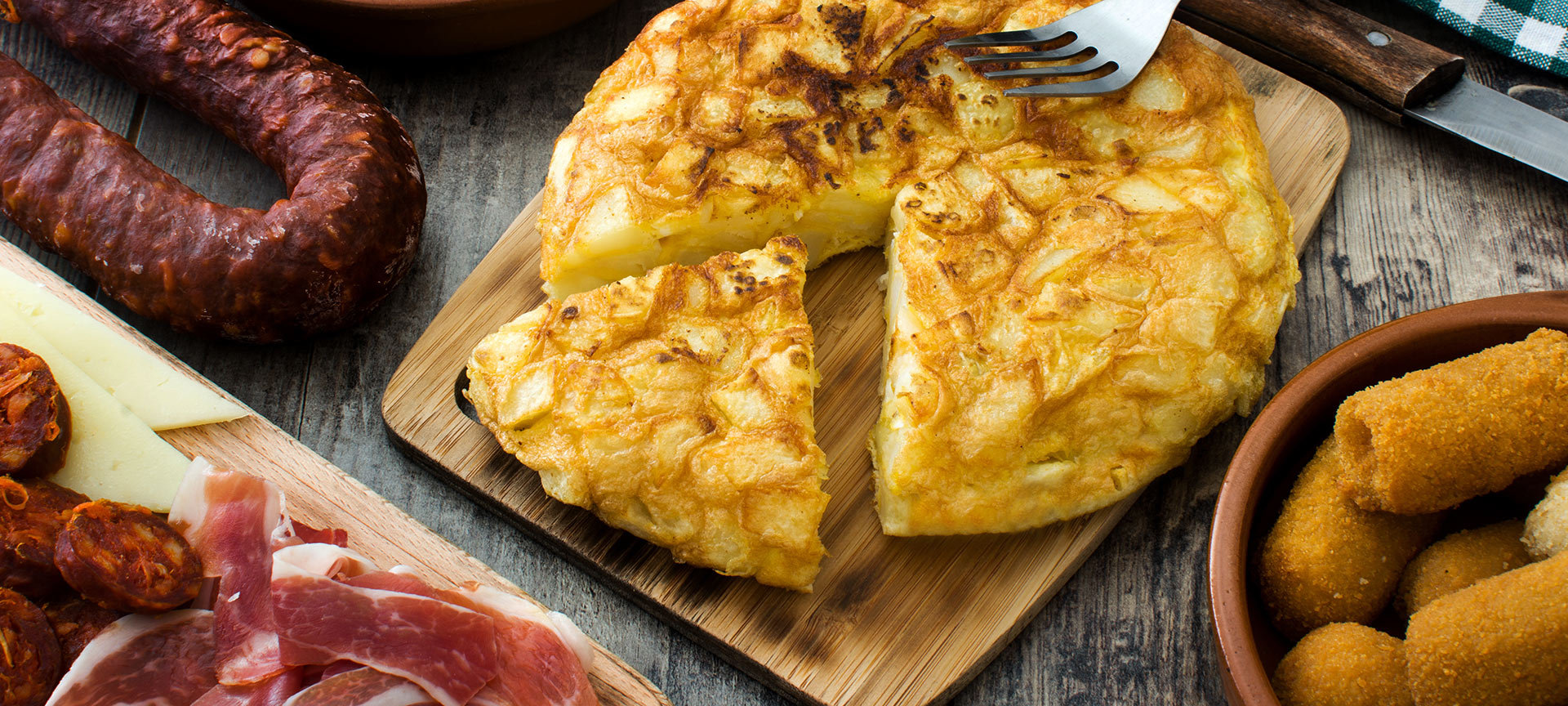 20 recommended and highly popular Spanish tapas
Here you have a small guide for going out for tapas and choosing what to eat in Spain. These are some of the most typical tapas that you may be served along with a drink or that you can order when eating a meal of tapas or full plates.
Spanish omelette

This is often ordered as a pincho de tortilla, or a piece of tortilla. The most traditional ones are made with eggs, potatoes and olive oil, but many also contain onion.

Patatas bravas and patatas alioli

These are fried potatoes covered in a tasty sauce. Bravas sauce is spicy and alioli is made mainly from olive oil and garlic.

Cured ham

And if it is Iberian, even better. This is one of the Spanish products most-liked by visitors and as a tapa is usually served with bread or picos and colines (small dish of crunchy bread typical in Spain).

Cheese

In Spain there are many varieties and you will most typically be offered a local cheese. Some of the most well-known are Manchego (typical of Castilla – La Mancha), Idiazábal (Basque Country), Roncal (Navarre), Mahón (Balearic Islands) and Majorero (Canary Islands).

Olives

Olives are usually served pickled. In fact, pickled items in general are commonly found in tapas. There are also stuffed olives (normally with anchovies or peppers).

Calamari

Battered squid fried in olive oil and served hot. They are popular all over the country, especially cut into rings.

Croquettes

Although ham croquettes are the most traditional type of croquette, you can also increasingly find them made with wild mushrooms, king crab, squid, prawns, cod or different types of strong cheeses, like Cabrales.

Mussels

These are mainly steamed and can be served with lemon or with finely-chopped and dressed tomato, onion and pepper.

Pan tumaca

Bread, tomato, olive oil, garlic (optional) and salt. This is typical in Catalonia, where it is also known as pa amb tomàquet. Depending on tastes, ham, cured meats, tortilla or cheese may be added.

Black pudding and chorizo

Together with ham, these are two of the most popular cured pork products served as tapas. The first is made with rice and the second is served grilled or cooked in cider. Other popular pork tapas include picadillo(chopped and breaded meat), and chicharrones and torreznos, made mainly from bacon.

Gilda

This is a classic from the Basque country, where tapas are called pintxos. It is a skewer with an anchovy, olive and hot pepper.

Huevos rotos

Also known as huevos estrellados, these are fried eggs with a runny yolk served over a bed of ham and fried potatoes. The yolk is broken up and runs over the other ingredients. It is usually served with bread to dip into the egg yolk. There are other popular versions which substitute the ham for baby eels, prawns or other cured pork products.

Cuttlefish

Served grilled with mayonnaise or alioli sauce In many places, fried chopitos (similar to cuttlefish but smaller in size)are popular, which in Andalusia are known as puntillitas.

Paella

The most popular dish in the Valencia region. Its main ingredient is rice and it is made with vegetables and, depending on the type, with meat or seafood.

Octopus a feira

Octopus is often served on a wooden board in Galicia. This is why it is known as pulpo a la gallega. It is served boiled and chopped, seasoned with salt and paprika and drizzled with olive oil.

Papas arrugadas

You can try these potatoes above all in the Canary Islands, where they are served with mojo (a sauce from the region with a rich flavour). The most famous type is made with small local potatoes which are boiled and covered in salt.

Pescaíto frito

Fresh battered fish fried in olive oil. This is found mostly in Andalusia where it is often served in a paper cone, prepared with a flavourful spice mix. There it is also known as bienmesabe.

Ensaladilla

This is a cold dish prepared with boiled potatoes, mayonnaise, tuna, egg and various finely-chopped vegetables and pulses, such as carrots, peas or green beans.

Migas

Its main ingredient are bread crumbs fried in olive oil and various other ingredients to give the dish flavour. These can include chorizo, bacon, peppers, garlic, onions, etc. There are many varieties, with some adding grapes, others substituting meat for cod fish, etc.

Salmorejo and gazpacho

Two typical cold soups from Andalusia, usually served in the summer. Tomatoes and olive oil are the main ingredients.

And to drink?

The most popular drinks are beer and wine. Also common are cider, vermouth and sangria. Beer is often served in a caña (20 cl. glass) but can also be a doble (double the quantity), quinto or botellin (20 cl. bottle), or jarra (half litre). Lager is the most popular beer. As for wine, the most well-known is Rioja, but make sure you sample other varieties, since all regions in Spain produce excellent Designation of Origin wines.