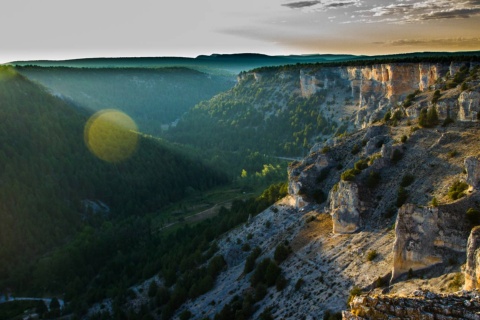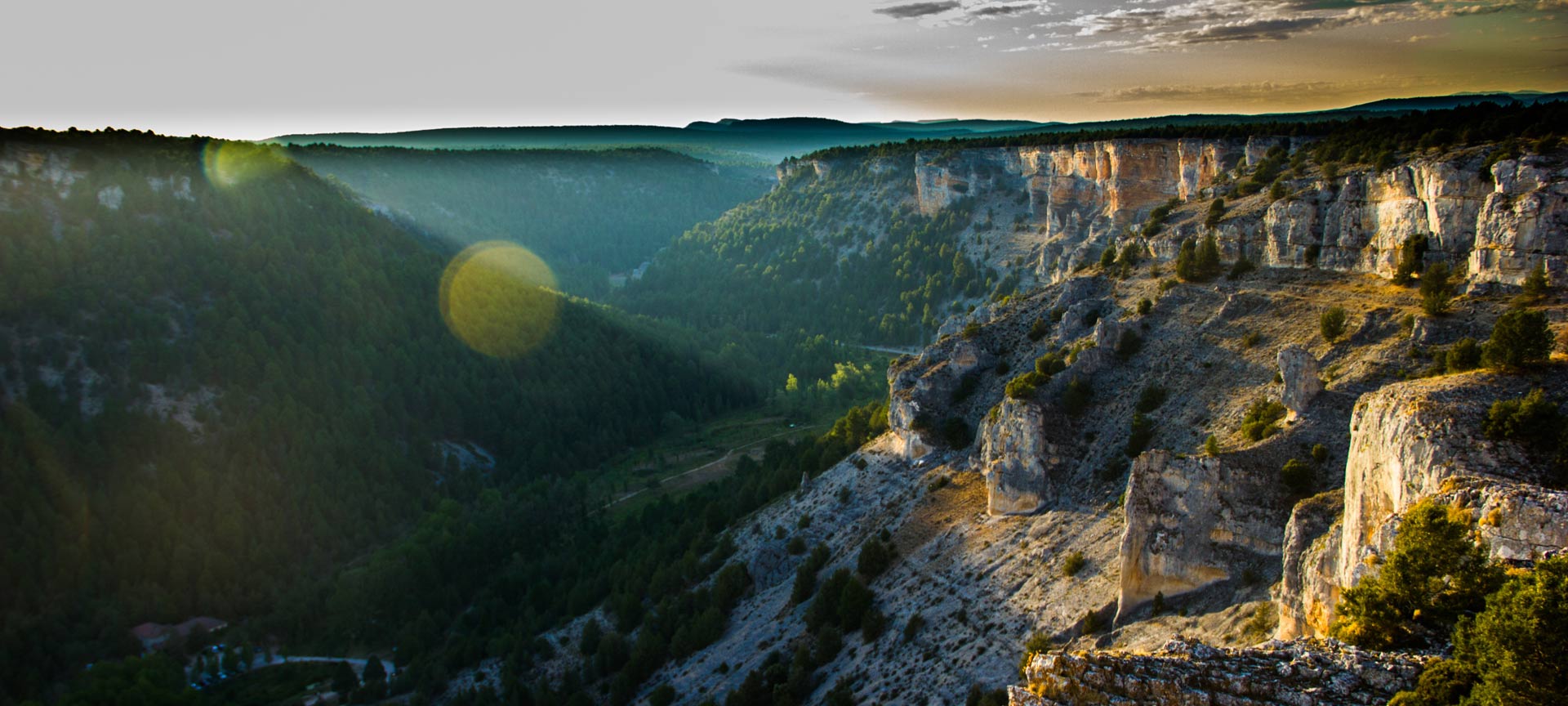 Different ideas for a holiday in Spain
Have you been in Spain before and want to come back and discover places off the beaten track? Is it your first time, but you'd like to find a different side of the country? We recommend several ideas for travelling in Spain far from the usual locations. #SpainExperience
The underwater sculptures of the Atlantic Museum in Lanzarote

This is not just any museum: it's 12 metres below the surface of the Atlantic ocean, off Lanzarote in the Canary Islands. Its 10 sculptures were created by the artist Jason deCaires Taylor, and as they are made of pH neutral concrete, they are gradually being assimilated by marine life. The experience, an extraordinary dialogue between art and nature, is well worth it.

The sleeping volcanoes of La Garrotxa

We go now to Catalonia and La Garrotxa Volcanic Zone Natural Park, one of the most interesting volcanic landscapes in Europe, with 40 volcanic cones. The area is also worth visiting for its Romanesque art and its picturesque little villages in the foothills of the Pyrenees. And there are plenty of unusual things to do while you explore this region: you can go on sightseeing trains and carriage rides, visit farms, practise yoga, go hot-air ballooning with a country feast waiting when you land…

The Charles V route and the Monastery of Yuste

In 1556, the Holy Roman Emperor Charles V made his final journey: 550 kilometres across Spain, from Cantabria to Extremadura, to spend his last days in the Monastery of San Jerónimo in Yuste. You can follow some of the routes the Emperor took, or go straight to see the monastery, two kilometres from the village of Cuacos de Yuste. To really feel history come alive, come to the fiesta held to commemorate the occasion every February, when local people wear period costume, and there are craft markets and traditional food and drink.

Medina Azahara, the palace-city

A trip to the city of Cordoba (Andalusia) to see the Great Mosque is always a fantastic experience. But it's even better if you take a side trip to Medina Azahara, just seven kilometres away. Its history goes back to the year 936. That was when Abd-ar-Rahman III ordered this city to be built, as the administrative capital of the caliphate and a luxurious place of residence. Sandstone, marble, pools, gardens… As you walk around, it's easy to imagine the past splendours of the city. And so far, only a third of its 112 hectares has been excavated.

Taramundi and the Mill Museum

Between mountains and valleys, Taramundi, in Asturias, is a small town surrounded by magical forests in the region known as Green Spain. Taramundi would be included in any list of recommended places for rural tourism. But what makes this area exceptional is that it gives visitors the chance to discover the world of traditional crafts and professions. You can visit the Traditional Knife-making House-Museum (home to one of the world's biggest knives) or one of Spain's largest watermill museum, Mazonovo, with 19 mills and a curious primitive hydraulic system.

Three routes for discovering Tramuntana

The Cultural Landscape of Serra de Tramuntana, on the island of Mallorca (Balearic Islands), is a UNESCO World Heritage site and has inspired many artists over the years. As well as the island's famous turquoise coves, this rugged mountain range running parallel to the northwest coast will captivate you. We suggest three unusual ways to explore it: taking the Tren de Sóller, a narrow-gauge train with wooden carriages; following the Dry Stone Walling Route; or the Literary Route from Valldemossa to Pollença on the trail of the writers and artists who have loved the island, from Frédéric Chopin to Robert Graves.

Beyond the Cíes: the Ons archipelago

Galicia's most famous islands are the Islas Cíes. But the Illas Atlánticas National Park includes another, much less famous, tiny archipelago: Ons. Just a few people live year round on the idyllic little island of Ons. If you want to visit its paradise beaches or hike its unspoilt landscape, you will need to get a special permit and take a ferry. The island is particularly good for snorkelling, and rich in legends and mysterious caves like the Buraco do Inferno – the Hellhole.

Roman Villa of Noheda

We urge you to see this site located in Cuenca (Castilla-La Mancha), with very well-conserved mosaics and other vestiges of the Roman Empire. One of the most luxurious villas of Roman Hispania, it includes the world's largest figurative mosaic, and a collection of 500 fragments of marble statuary.

Stunning landscapes: Laguna Negra and the Río Lobos gorge

They are in Soria, and we promise they are worth the trip. The Laguna Negra is a "black" glacial lake 2000 metres above sea level, surrounded by mystery and local legends. And the deep gorge of the river Lobos is 25 kilometres long, with many caves along its course, some as large as the Galiana Baja. It also conceals Templar sites like the remote chapel Ermita de San Bartolomé.

The Flysch Route and the history of the planet

What if we were to tell you that in Spain you can see 60 million years of geological history in a single place? We refer to the kilometres of coast between Mutriku and Zuamaia (Gipuzkoa, in the Basque Country) where the rock strata have been exposed by erosion. The marks show some of the most significant events of the relatively recent history of the Earth, such as the extinction of the dinosaurs. You can hike along the coast among the cliffs, or take a three-hour boat trip where the secrets of the area will be explained to you.

Albarracín and the Maestrazgo

Beautiful and picturesque. That's one of Spain's prettiest villages, Albarracín, in Teruel. At nearly 1200 metres above sea level, it's quite an experience to stroll around its streets and admire its medieval architecture, its mansions, castle and cathedral. Two and a half hours away by car, the landscapes of the Maestrazgo area, and villages of stone houses, like Mirambel or Cantavieja, are just as attractive. And you can combine the tranquillity of these lesser-known spots with adventurous activities, such as rock climbing.

The waterfalls and turquoise pools of Nacedero del Río Urederra

Is this one of the prettiest areas in Navarre? Yes. And also one of the least known. The name "Urederra" is a hint, as it means "beautiful water" in Basque. This walk through nature follows the pools, rapids and waterfalls of the upper reaches of the river, with turquoise waters hard to find anywhere else in Spain. If you want to add more activities to a getaway here, you could take a guided tour of a cheesemaker, or one of the workshops where they make patxaran, the famous local sloe liqueur.

Ichnites in La Rioja

Over 120 million years ago, dinosaurs roamed La Rioja… and left their mark. In fact, they left thousands of marks - fossilised footprints, known as ichnites. If you visit La Rioja you can see them for yourself in places like Enciso, Munilla, Arnedillo, Cornego or Igea, which has a Palaeontological Visitor Centre. Various different sites have footprints, some of them accompanied by life-size reconstructions of the dinosaurs themselves. If you're travelling with children, you could include a visit to the paleo-adventure park "Barranco Perdido", with swimming pools, adventure circuits, a 3D museum of the Cretacean period, and palaeontology workshops for all the family.

El Soplao cave and animals in semi-freedom in Cabárceno

These two places in Cantabria are also great for visiting with children. El Soplao cave is considered one of the wonders of worldwide geology thanks to its amazing stalactites, lava flows and so on. As well as sightseeing, you can take an adventure tour on a 2.5 kilometre route that will make you feel like a speleologist.And Cabárceno Wildlife Park (15 kilometres from Santander) is special because the animals living there are in large open spaces. You can tour the park on foot or by car, or even take a cable car ride with fabulous views.

Mining Park of La Unión

Our last stop is Murcia, with another unusual tour. This Mining Park (temporarily closed for works), on a 50,000 square metre site, lets you see close up what the underground mining industry was like in the 19th and 20th centuries. The route starts in a mining train and ends in the famous Agrupa Vicenta mine: 4,000 square metres of galleries, 80 metres down, and an underground lake with red water. This is definitely one of the most spectacular mines you can visit anywhere in Europe.