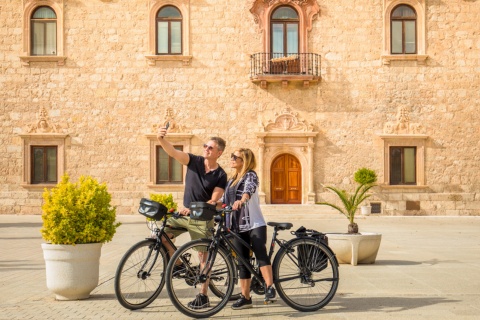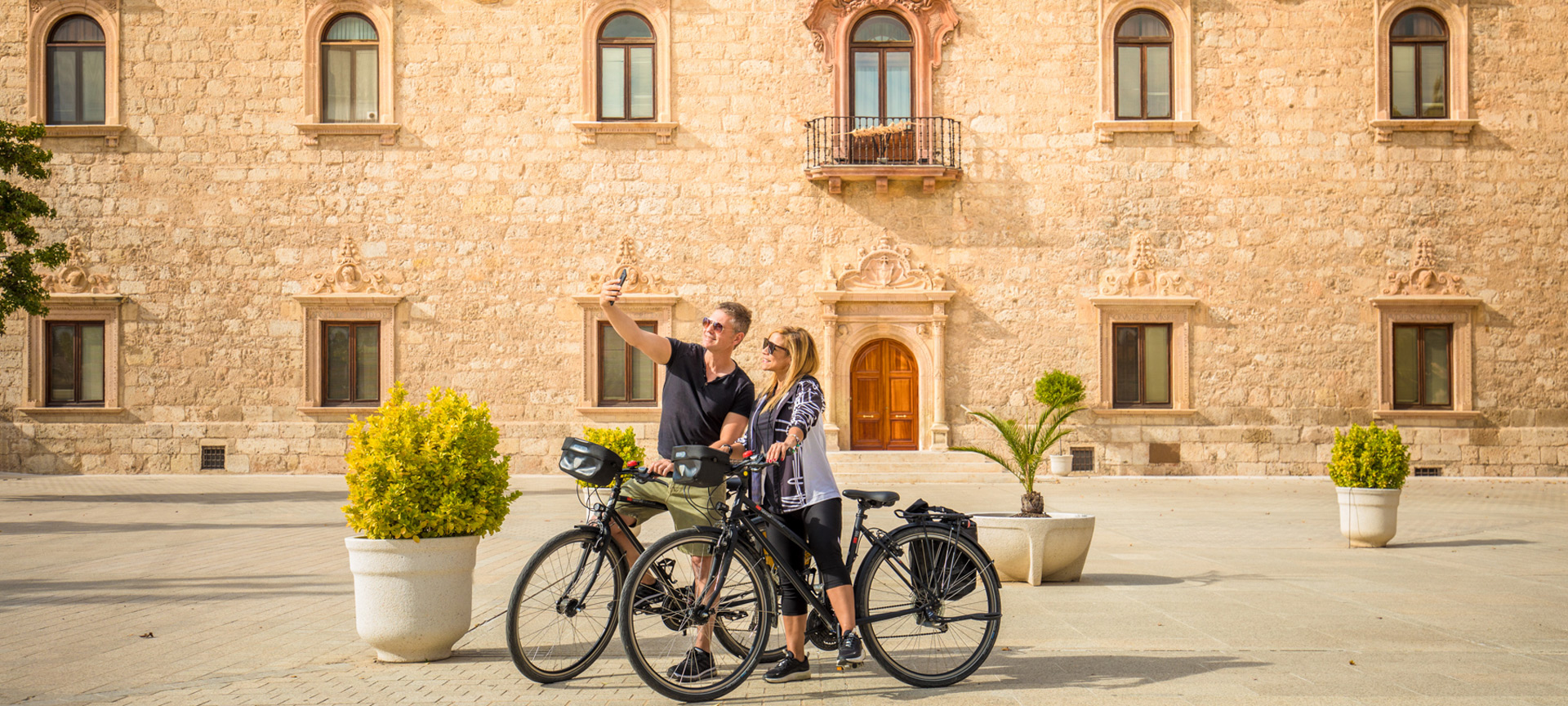 Bike trips near Madrid Alcalá de Henares, Aranjuez and San Lorenzo de El Escorial
If you are travelling to Madrid for a few days and you fancy visiting one of the nearby towns famous for its heritage, here are three suggestions that combine culture and sport. The idea is that you discover three destinations with some of the most important monuments in Spain and with fantastic gardens. Once you are there, you'll be able to choose from different bike routes. You can find them and download them to your mobile through the CiclaMadridConecta app.  
Distance from Madrid: About 36 kilometres. How to get there: By train: local line C-2 and C-7. By bus: line 223, which starts from the Avenida de América transport hub. This World Heritage city is special for several reasons. Firstly, because it is the birthplace of renowned Spanish writer Miguel de Cervantes. In fact, you can visit his Birthplace House-Museum and take a selfie in the entrance with the main characters of 'Don Quixote', Don Quixote and Sancho Panza. Alcalá is also very well-known for its University and its Corral de Comedias (the oldest preserved theatre in Spain, opened in 1602). You can also visit Roman archaeological sites in this city like the House of Hippolytus, the Cathedral and the longest arcaded street in Spain. And no day would be complete without a tour of some of its famous tapas bars. If you want to visit the city by bike, CiclaMadrid proposes an easy 22-kilometre urban route that takes around two hours, setting off from the train station. This tour includes stops on the outskirts of the city to visit, for example, the remains of the Castle of Alcalá la Vieja. You can download the cycle track from the CiclaMadrid website and see suggestions for wineries, local festivals, etc. You can also find other related cycle routes such as the one that goes from Nuevo Baztán to Alcalá de Henares (29 kilometres) or from Alcalá de Henares to Algete (26 kilometres).

Distance from Madrid: About 49 kilometres. How to get there: By train: local line C3 from Atocha or Chamartín stations. By bus: buses leave from the Madrid-South Bus Station (Estación Sur de Autobuses). The Royal Residence and Town of Aranjuez, whose cultural landscape has been declared a World Heritage site by the UNESCO, is well worth a visit. The first thing that will attract your attention is the Royal Palace, which was conceived as a spring residence by the Bourbon dynasty in the 18th century. Perhaps one of the most special things on a trip to Aranjuez is a tour of the stunning and extensive gardens decorated with monumental statues and places like the Museum of the Royal Barges or the Casa del Labrador (Labourer's Cottage). Nor can you miss a walk through its urban centre dotted with domes, small palaces, convents, churches, the Royal Theatre, the food market… To get to know Aranjuez by bike, CiclaMadrid offers you an easy 16-kilometre urban route which takes around an hour and a half. The tour includes stops at several places of interest on the outskirts of town, such as the El Regajal and El Real Cortijo wineries, where you can enjoy a wine tasting session. On the website you can also find leisure and food suggestions at places in the area and other cycle routes which depart from Aranjuez to towns like Valdemoro or Chinchón.

Distance from Madrid: About 56 kilometres. How to get there: By train: local line C-8. By bus: buses C661 and C664, which leave from the Moncloa transport hub. This town is located in the spectacular setting of the Sierra de Guadarrama mountains. Its famous Monastery was also once a royal residence (although in this case the summer house), and is located halfway between Madrid and La Granja de San Ildefonso. You can miss a visit to this monument to see the Royal Pantheon or the incredible library. San Lorenzo de El Escorial is also replete with different small palaces and gardens with marvellous views, such as the ones at the Casita del Infante and the Casita del Príncipe. And if you leave the centre, you will soon reach the pretty La Herrería forest, with its famous natural viewpoint known as the 'Chair of Philip II'. CiclaMadrid proposes a 14-kilometre cycle route that takes around an hour and a half, setting off from the train station. It also suggests other interesting activities to enjoy, such as bird watching at mount Abantos, as well as some other related routes that depart from San Lorenzo de El Escorial to Robledo de Chavela or to Moralzarzal or the one that runs through the Guadarrama National Park.
Finally, you may like to know that there is a grand tour of over 1,200 kilometres that connects a large part of the towns in the Region of Madrid. The outskirts of Madrid are full of places of cultural interest. Come and discover them by bike, either pedalling on your own or in company.