The first week: the islands of Gran Canaria, Fuerteventura, Lanzarote and La Graciosa
Distance:800-1000km
Gran Canaria
It is known as the miniature continent so just imagine what you can find there. Its main city is Las Palmas de Gran Canaria, capital of the eastern islands.
During your visit, you can't miss a stroll through the historic quarter of Vegueta and its shopping street, Calle Triana; a swim on the urban family beach of Las Canteras; or enjoy its many leisure options.An island for wandering around: The tour of the island is one of the most popular excursions. The reasons? On a route that is about 250 kilometres long, you can visit the church of San Juan Bautista in Arucas, the port of Agaete, the spectacular Mirador del Balcón viewing point in La Aldea, discover a picture-postcard harbour in Mogán, visit some of the most popular beaches such as Arguinegüin, Patalavaca, Puerto Rico, Amadores and other small coves, or stroll through the historic town centre of Telde.However, if any of the beaches is a must visit it's Maspalomas: a desert of dunes that stretches all the way to the sea. We recommend you take a walk along the seashore to the neighbouring Playa del Inglés beach,Inland, don't forget to visit rural Tejeda and Teror. If you have time and, above all, if you are fascinated by nature, jot down the Mirador del Pozo de las Nieves Viewpoint, the Nublo Rural Park, the Las Niñas Dam and the Bandama Caldera.When planning your visit to the island, remember that temperatures are usually higher in the south and there are more beaches there. Whereas, as you go further inland, the temperature may decrease.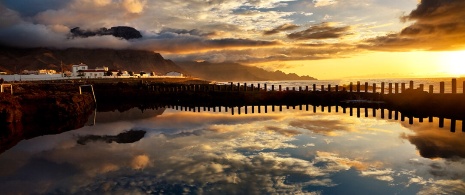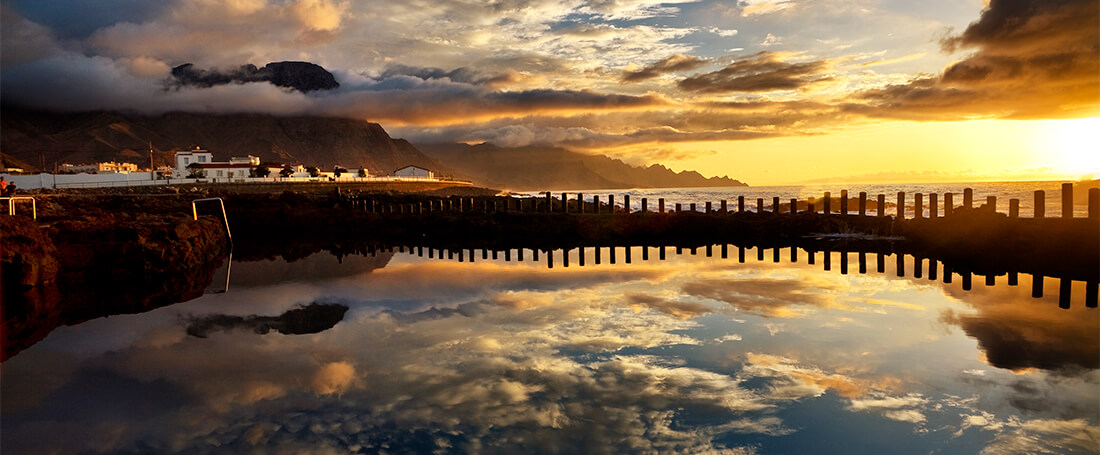 Fuerteventura
A paradise for relaxation with more than 150 kilometres of beach. A dream for surfers due to the waves. An endless playground of sand and fun for children.
All of this is Fuerteventura, an island with a virgin coastline, emerald green water and white sand, declared a Biosphere Reserve, and we are going to tell you what the essentials are for a few days here.Canary Island beaches: The perfect plan for Fuerteventura is to combine time spent in the sun on the beach with a pleasant meal of fish or kid and local cheeses, and some kind of water activity. At dusk, a good option is strolling and having dinner in places like Corralejo, Morrojable, Costa Calma or Caleta de Fuste.You have to swim at beaches such as the really long Sotavento, Cofete, Morro Jable or Costa Calma (in the south) or the Playa de la Concha Beach, in El Cotillo, and Grandes Playas de Corralejo Beaches (all in the north). The latter is at the foot of the Las Dunas de Corralejo Nature Reserve, an impressive desert full of dunes. If you have never rolled down an enormous dune, you have to–and here you can.Other points of interest are the viewpoints of Peñitas and Morro Velosa, near Betancuria. Discover spectacular landscapes.If you still have time, we recommend a short boat trip to Islote de Lobos from the port of Corralejo, going snorkelling or getting to know the desert fauna in Oasis Park.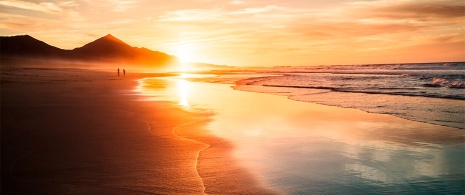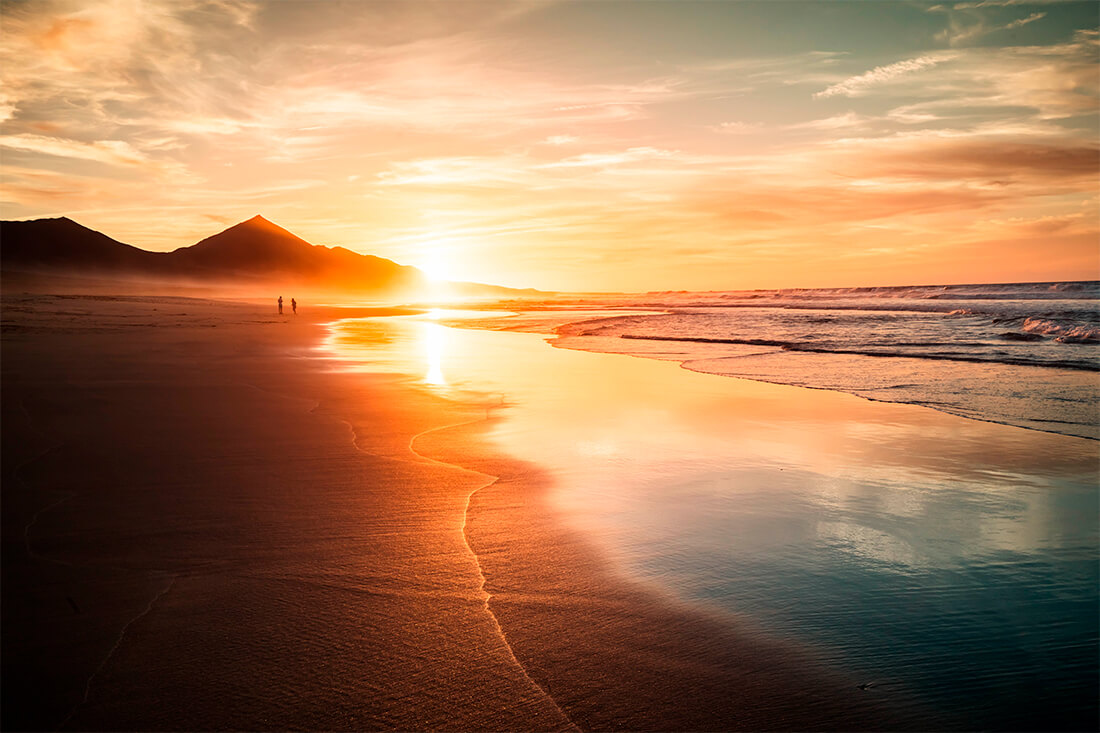 Lanzarote
If you can only stay on the island two days, there are some activities that we recommend you don't miss.
The must-do activities include a tour of the protected landscape of La Geria to discover the original grape growing of Lanzarote and its white wines; a camel ride (you can take one in the Timanfaya National Park); a trip to the Charco de los Clicos; or a swim on beaches such as Papagayo or Las Cucharas. Other highly recommended beaches but ones that take a little longer to get to are Las Conchas Beach and the nudist beach in Famara.Volcanic magic: Yes, magic exists in Lanzarote or it seems to when you discover its nature. It is so valuable that the island has been declared a UNESCO Biosphere Reserve. Furthermore, it is extremely easy to discover its essentials thanks to its Art, Culture and Tourism Centres. They include Timanfaya National Park (Fire Mountains), Cueva de los Verdes, the Cactus Garden, Jameos del Agua, the Mirador del Río Viewpoint and the San José Castle International Museum of Contemporary Art. If you are on a short visit, you may be interested in a pass for the four centres.It is also special to visit places such as the fishing village of El Golfo, what is known as the valley of the thousand palm trees (Haría), Yaiza and its quiet streets with white houses, the bustling Puerto del Carmen or the shopping town of Puerto Calero.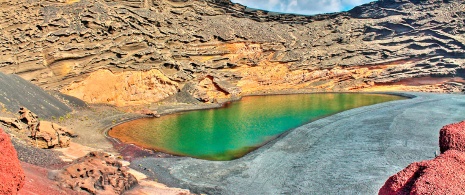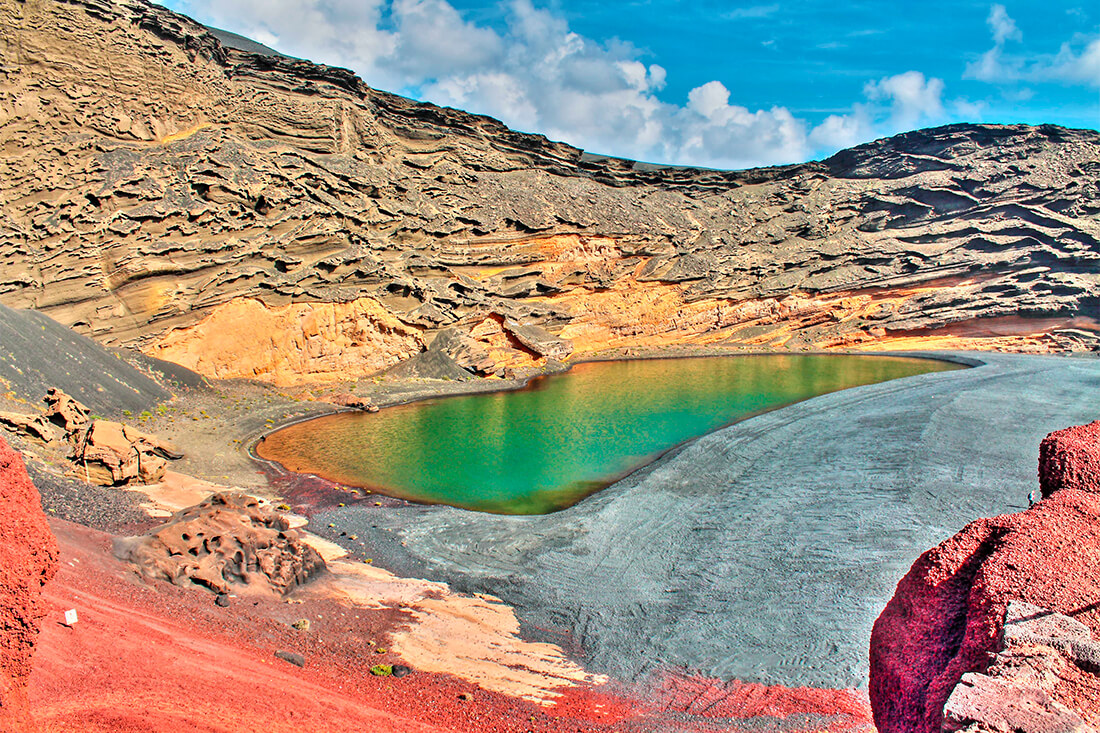 La Graciosa
An island where you can relax on beautiful golden sandy beaches, and enjoy nature and silence.
La Graciosa is a small island opposite Lanzarote, and can be reached by a 30-minute ferry ride from the port of Orzola in Lanzarote. The best ways to get to know the island are by bicycle, or on boat trips that include stops along some of its beaches.