First section: Exile
The 'Song of El Mío Cid' tells of El Cid's exile in 1088, at the hands of King Alfonso VI. Accompanied by his family and a handful of loyal knights, he abandoned Castile. This first part of the route along the Way of El Cid covers the journey made by the famous knight from Vivar del Cid (Burgos) to the town of Atienza (Guadalajara). 
Distance:340km Journey: By car / Duration: 4 days Journey: Walking / Duration: 15 days Journey: Bicycle / Duration: 5 days
This section passes through the provinces of Burgos, Soria and Guadalajara. It covers 341 kilometres by road and 285 kilometres along paths divided into different stages. If you are travelling by car, we recommend taking four days to visit the sites at your own pace. The option for walkers takes about 15 days, and five for cyclists.The route begins at the birthplace of the protagonist, Vivar del Cid. You will cross landscapes of fields, mountains and forests, and discover historic towns and villages and important heritage buildings. Visit the tourist offices in each location so that you don't miss a thing.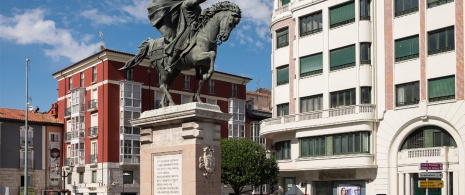 Interesting places
Burgos is worth stopping off in. The remains of El Cid and his wife, Lady Jimena, are found in the Cathedral, declared a UNESCO World Heritage Site. However, there are many other monuments to see in this city, including the church of San Nicolás and the Monastery of las Huelgas Further along, don't miss the Monastery of San Pedro de Cardeña where El Cid left his wife and his daughters when he went into exile.After passing Covarrubias, you can go in search of another must-see religious complex, the Monastery of Santo Domingo de Silos, a congregation to which El Cid donated some land. Its famous cloister is a genuine treasure of Romanesque architecture. The churches of Nuestra Señora de la Asunción in Castillejo de Robledo, with its wall paintings, and San Miguel and Nuestra Señora del Rivero in San Esteban de Gormaz are also Romanesque.Before arriving at Gormaz, home to the caliphate castle where El Cid was governor, you should stop in El Burgo de Osma to visit its Gothic cathedral and its old town centre. Berlanga de Duero is another notable town on the route of El Cid - King Alfonso VI made him its feudal overlord in 1089. Its attractions include a castle with a Renaissance layout, and a collegiate church.The final stop of this section is also quite interesting: Atienza. Its streets are lined with noble houses and Romanesque and Gothic churches. There are also outstanding views to be had from the castle.