The full route comprises nine stages. You can cover all of it or choose the stages that interest you most.
The route is ideal to follow by car, and the destinations along the way are well worth visiting. Their shared history can clearly be seen in their streets, which are lined with medieval palaces, churches, monasteries and castles. Nevertheless, each one has its own personality and attractions, You'll notice this as soon as the journey starts.
You can get under way in the Basque Country, in Hondarribia (Guipúzcoa), right on the Basque Coast. Amongst other things, you will love its maritime atmosphere, its nearby beaches and its internationally-renowned gastronomy. In the same Region, now inland in the province of Álava, you will find Laguardia. Make a stop to stroll around its old town and sample the local wine with the internationally prestigious Rioja Alavesa, included in the Controlled Designation of Origin.Just 60 kilometres away, another essential stop is in Estella or Lizarra. At this town in Navarre you will probably come across pilgrims, alone or in groups, with rucksacks on their backs. Don't be surprised. The Way of Saint James pilgrimage route runs through here. It is the first European cultural route and also has the UNESCO World Heritage designation.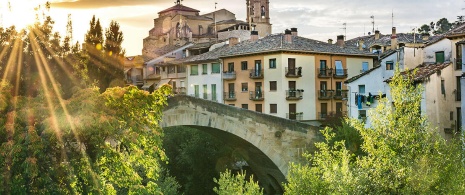 The route now enters the Region of Castile. First to Almazán, in Castile and León, with the Duero River and its huge farmlands. The route continues on into the region of Castile-La Mancha. In Sigüenza (Guadalajara), you can discover what life was like for medieval knights. Almost one thousand years ago, El Cid Campeador, a legendary hero of Spanish history, passed through this town.Once you reach Madrid, it is always worth a trip to Manzanares El Real, in the Sierra de Guadarrama National Park and visit its impressive Mendoza Castle.Further south, in Consuegra, in the province of Toledo, you can see, amongst other things, the windmills that call to mind the imaginary giants from the story of Don Quixote, the immortal creation of writer Miguel de Cervantes.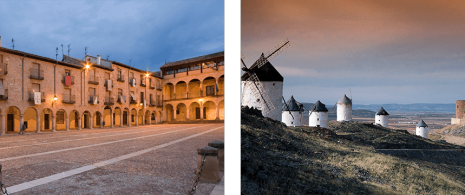 You can return back into Castile and León, but this time to Ciudad Rodrigo (Salamanca), where numerous religious buildings, palaces and mansion houses were built during the 16th century.The route finishes in the Region of Extremadura, in the cities of Olivenza and Jerez de los Caballeros (Badajoz). They are very close to another, highly-recommended route the Silver Route that runs across Spain from south to north.There's loads to see, don't you think? Enjoy this cultural adventure in Spain. In each of these towns and cities you will take an exciting trip back to the Middle Ages, learning about their history and traditions, and admiring the countryside that surrounds them. And if you don't get the chance to visit all of them, don't worry, there's always next time.