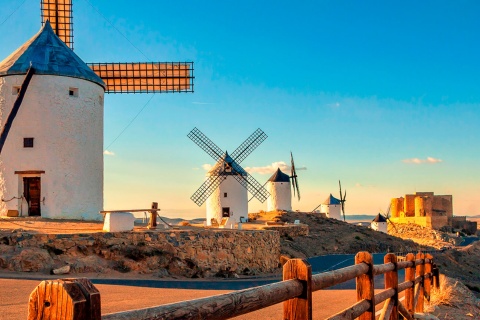 A route to discover the windmills of Spain
The region of Castilla-La Mancha is where you'll find the most historic windmills in Spain, and very possibly in the world: the windmills that appear in Don Quixote. The story of ingenious nobleman Don Quixote of La Mancha and the legend woven around him has always aroused a great deal of interest. And many have been inspired to follow in his footsteps, backpacks on their shoulders, by bicycle, motorbike, or even on horseback (like our hero), bringing the story to life by visiting the windmills that Don Quixote mistook for giants. If you're looking for a different way of discovering Castilla-La Mancha, that's just what you'll find in these three circular routes full of stories, adventures, and above all spectacular landscapes that you can enjoy solo, with the family or with friends.
The El Romeral - Tembleque route

This is a very easy route, and as long as you take a good supply of sunscreen and water with you in the hottest months, it's perfect - even for doing with small children. Before leaving from the village of El Romeral you'll be able to admire the spectacular Don Quixote graffiti that decorates the streets, as well as pay a visit to the church of La Asunción. Right by the village, you'll find two of its three windmills, called Crítica and Pechuga, which can be reached by climbing some steps. From here you'll have magnificent views, both of El Romeral and of its third windmill, Los Marranos. From El Romeral you can take the well-signposted Don Quixote Route until reaching the impressive Plaza Mayor square in Tembleque. A village where it seems that time has stood still, and whose doors and windows will have you reaching for your camera. But do make sure you leave enough space for some shots of its windmills. The Moilino Gaspar Torres (with no sails), and two other recently restored windmills. To get back to El Romeral following the circular route, you can take the Camino de Santiago de Levante (GR-239) part of the St James Way, as you watch the sunset work its magic on the landscape.

The Consuegra - Madridejos route

If what you want is to see lots of windmills without needing to cover great distances, this circular route is ideal, with more than 10 windmills to visit and a whole history waiting to be discovered.The municipality of Consuegra is well-known for having preserved 12 windmills for hundreds of years, most of which are still open to visitors. All are to be found on the Cerro Calderico ridge, next to a castle of Arab origin linked to another great historical figure: El Cid.Clavileño, Espartero, Rucio, Caballero del Verde Gabán, Chispas, Alcancía, Cardeño, Vista Alegre, Sancho, Mochilas, Mambrino and Bolero. These are the names of the 12 windmills that are sure to impress. There's even one known as the Caballero del Verde Gabán, which today is the Iberian peninsula's first 'gastro-windmill'.And if you're lucky enough to be visiting Consuegra over the last weekend of October, you'll be able to enjoy the spectacular and unique Saffron Rose Festival. If the weather permits, before arriving in Madridejos why not take a refreshing dip in the Amarguillo river, which links these two places. Madridejos is the stop that rounds off this route, and that has a closely-guarded treasure: the Molino del Tío Genaro. A windmill that's over 400 years old, and is in perfect condition.Before heading back to Consuegra, we recommend visiting the Silo del Tío Colorao museum, and the Madridejos Saffron and Ethnographic Museum

The Mota del Cuervo - Belmonte route

Fans of mountain biking have an appointment with a circular route through a landscape that's 100% typical of Castilla-La Mancha, and packed with history. The province of Cuenca also has windmills that stand imposingly among the hills of La Mancha. In this case, the route starts at Mota del Cuervo. The first stop is at El Balcón de la Mancha, from where you'll have a view of the village's seven windmills. El Zurdo (this one's famous because its sails turn anti-clockwise - 'zurdo' means left in Spanish) stands apart from the other six. Each Saturday at the El Gigante mill, there's a demonstration of how the mill machinery works, just as it did in the time of Cervantes. At the other end of our route is impressive, monumental Belmonte, best known for its Gothic-Mudejar style castle, and its beautifully preserved old quarter. But don't forget that it also has three majestic windmills, one of which is still open to visitors. The path leading up to them is a steep one, but the prize is the stunning view you get from up on high. Before heading back to Mota del Cuervo, we recommend stopping off in Pedernoso. This little country village will be the icing on the cake.
What to do
Travel plans for inspiring you
---