History of the trail
The Cares Trail always features in lists of Spain's most beautiful hiking trails. Although it isn't very demanding (except for a few inclines), you should consider its length and plan your route well.Did you know that this deep ravine was not just created by erosion by the river Cares? It is also the result of engineering work carried out in the early 20th century to channel water to the hydroelectric dam at Poncebos. This made it much easier to take this delightful walk without getting lost. Just follow the canal.Experienced hikers may be interested to know that the official trail (PR-PNP 3) actually begins, or ends, at Posada de Valdeón in León and not at Caín, making the route much longer (21 kilometres each way). However this first stretch is now little used and most people choose to begin at Caín.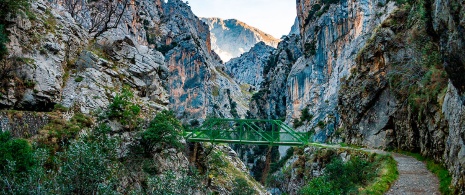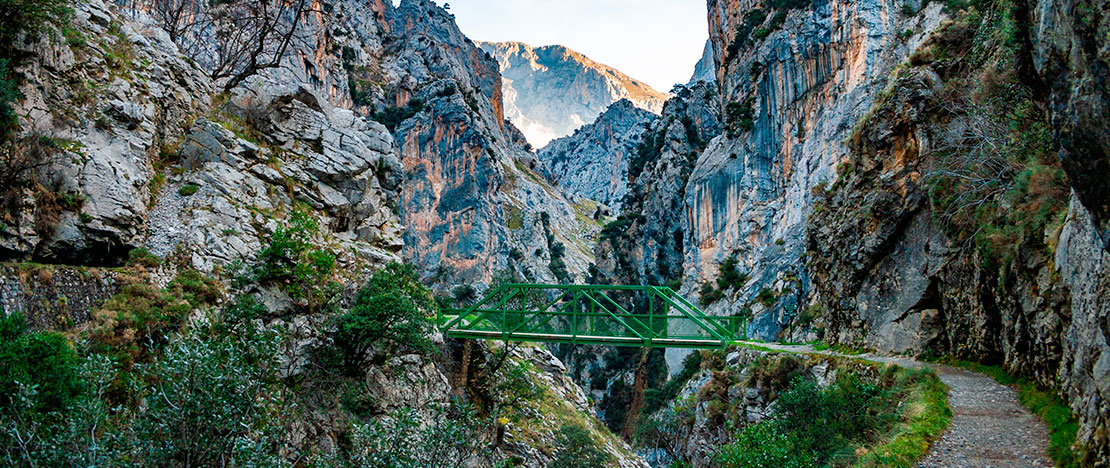 What you will find
First of all, it's useful to know you can take the same trail in the opposite direction, starting in Asturias. Starting at Caín is easier, because if you start at Poncebos you almost immediately encounter a fairly tough upward slope for two kilometres. If you begin in León province, this stretch is downhill.For those taking the whole trail, here's what you will find. Setting out from Posada de Valdeón, you come to Cordiñanes, where the valley starts to narrow. After this village you'll find the viewing point at Tombo, with its iconic sculpture of a chamois, a symbol of the Picos de Europa mountains. You'll see immense beech forests, and a little further on, Ermita de Corona, the chapel where King Don Pelayo is supposed to have been crowned. Also in this area is Chorco de los Lobos, a pit which was once used to trap wolves.
Then you come to Caín, a village surrounded by mountains over 2,600 metres high. The road ends here, and the Cares hiking trail begins at the entrance to the natural gorge, where most hikers start or end their walk.You'll follow the fascinating path through narrow tunnels and caves, with beautiful spots worth photographing along the way, such as the bridge of Los Rebecos (with dizzying views over the river), Bolín bridge, and the walkway at Pasarela de los Martínez (on the frontier between Castilla y León and Asturias). At Los Collaos, the highest point on the trail, you start to descend towards Poncebos. There, with luck, you can see the peak of Mount Urrielu (also known as Naranjo de Bulnes), with its vertical faces over 500 metres tall, an icon of Spanish rock climbing.It's best to enjoy the walk at a leisurely pace. Stop for snacks, see how trees grow in impossible places, listen to the wildlife… This trail never disappoints.