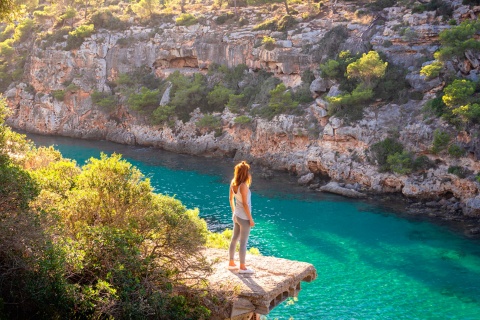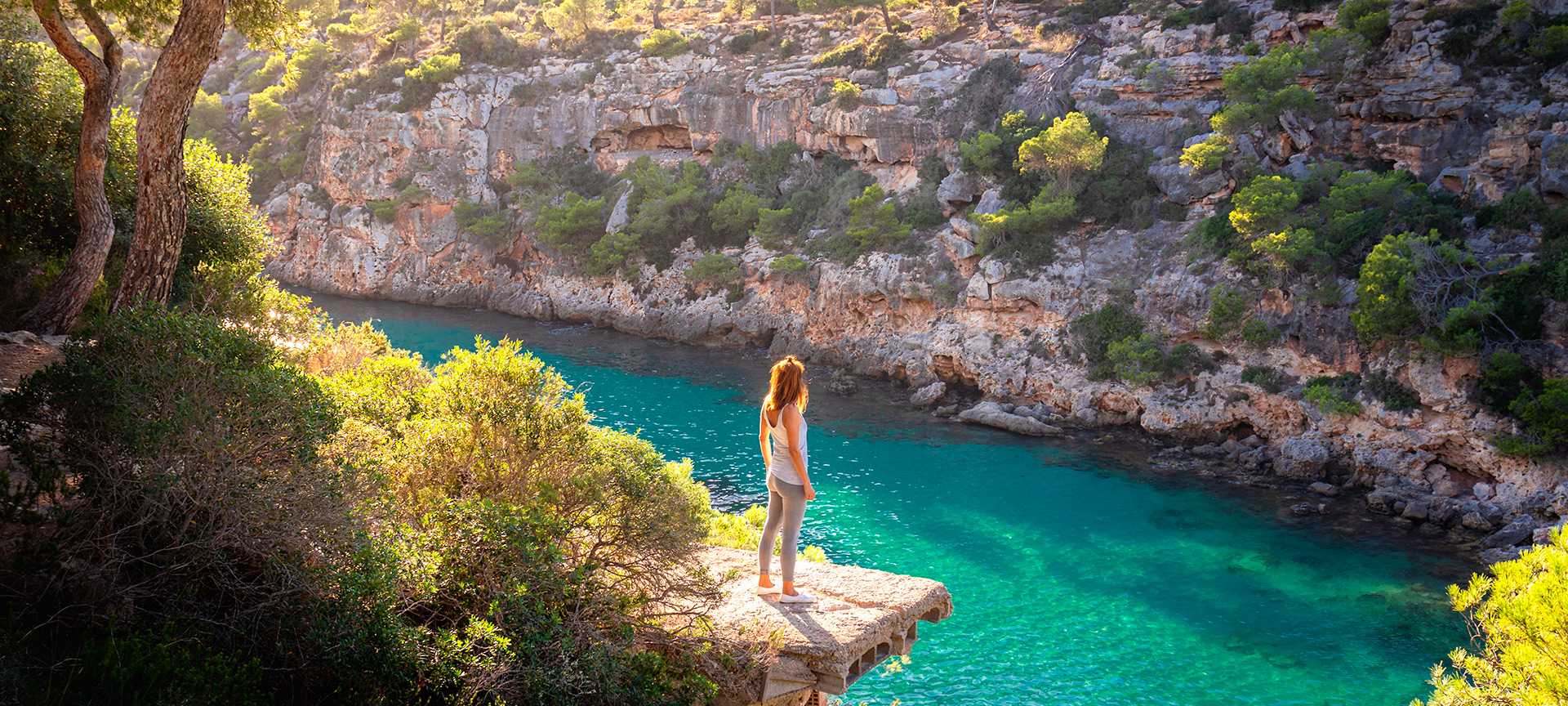 The Balearic Islands: always a 100% Mediterranean experience
In the heart of the Mediterranean these islands await, with an allure that you'll never forget. Little coves with turquoise waters that can only be reached on foot or by boat; lighthouses that offer some of the loveliest sunsets in the world; villages where you can try delicious local recipes, hippie markets; the warm scent of thyme, musky-sweet rock rose and the tang of salt.Because as well as being popular tourist destinations, Mallorca, Menorca, Ibiza and Formentera have their own unique personalities and lots of hidden corners to explore. Try any of the "Balearic experiences" that follow, and you're sure to want to come back for more. Because the warm Mediterranean breeze on your face is something you'll always remember. 
Swim in Crystal clear turquoise waters

It's impossible not to fall instantly in love with the beaches of the Balearics. Some are broad sweeps of sand. Other are coves tucked secretly away behind the pine trees, and can only be reached on foot, where the sailing boats anchored off seem almost to be floating on the air rather than on the perfectly transparent waters.For example, in Mallorca –the largest of the islands– there's the famous Formentor beach, and coves with an air of earthly paradise like Sa Calobra or Caló des Moro, and neighbouring S'Almunia.  The beauty of the coast of Menorca has an almost dreamlike quality; with coves of fine white sand like Macarella, Macarelleta, Turqueta and Galdana in the south, and wilder beaches such as Pregonda and Pilar to the north.Some stunning beaches are to be found on the smaller islands of Ibiza (the coves of Salada and Saladeta for example) and Formentera. In fact, Ses Illetes on Formentera usually appears on the listings of the most beautiful beaches in the world. Don't forget your snorkelling gear so that you can get the most out of waters that are crystalline thanks to the meadows of posidonia oceanica that grows on the seabed. Have a relaxing swim, and go on a sailing trip if you can. 

Stop off at captivating little villages

The spirit of the Mediterranean is not only to be found in interesting cities such as Palma, Ciutadella and Eivissa, but also in the towns and villages of the islands. In Mallorca you'll find Valldemossa right at the heart of the Tramuntana mountains, and here you can follow in the footsteps of lovers Frédéric Chopin and George Sand. You could also explore Artà, or go up to Sóller on the emblematic train with its wooden carriages that date from the beginning of the century.In Menorca you'll want to lose yourself in Binibeca Vell's labyrinth of narrow streets and whitewashed houses, go up to the top of the El Toro mountain, from where you'll have a unique panoramic view of the island, and get to know Es Mercadal. And why not soak up the peaceful atmosphere and take in the wonderful views in Ibizan villages like Santa Eulalia del Río? There are lots of rural accommodation options for you to choose from as well. Among these are renovated masías (old farmhouses typical of the islands)that even have their own vineyard.

Indulge in the mouthwatering flavours of slow food

Island cuisine is the very essence of the Mediterranean, so sitting down at a table at any time of day is always going to be a pleasure. And what do the Balearics taste of? A rich caldereta de langosta (a traditional lobster stew) in the pretty fishing village of Fornells (Menorca), a bullit de peix (rock fish with potatoes and rice cooked in fish stock) by the sea in Ibiza, an ensalada payesa (peasant salad)in Formentera, tasty local cheese in Mahón (Menorca) orsobrasada (a deliciously soft, spicy, slightly sweet sausage)in Mallorca, are just a few examples.For dessert how about an ensaimada (a sweet bread) from a traditional patisserie in Palma, or a flaó ibicenco, Ibiza's most traditional sweet treat, a tart made with cheese and mint.When it's time for a toast, try the island wines made with native grape varieties (there are wineries that you can visit), or perhaps a pomada (local gin with lemonade) in Menorca, or a glass of Palo (a kind of herb liqueur) in Mallorca. 

Bicycling along paths that seem to go on forever, leading to a lighthouse

The sun is slowly sinking, you're taking a leisurely bike ride; you reach a lighthouse, leave your bike and settle down to watch the sunset – just thinking about it is a form of relaxation. The lighthouses in the Balearic Islands have a kind of magnetic pull. You'll find it in the one at Formentor in the Sierra de Tramuntana mountains (Mallorca), in the Favàritx lighthouse in Menorca that stands right in the heart of the S'Albufera d'es Grau Natural Park, the one at Cap de Babaria (Formentera) which is the most southerly point of the Balearics, or Moscarter in Ibiza, the highest of them all.If you're into walking or cycling, you'll find lots of other interesting trails in the Islands. For example, there's the GR221 or Ruta de Piedra Seca: a well-signposted trail that runs for 170 km in the north west of Mallorca, from right by the coast up to the highest mountain peaks, with little stone villages that are great for a break along the way.Or you could take the Camí de Cavalls: a challenge that leads you all the way around Menorca on an ancient route that's 185 km long, and is divided into several stages. And how about jumping on a motorbike and letting yourself be carried away by the mystique of the PM-820 road in Formentera which doesn't have a single traffic light in close on 40 km, and that will take you through a series of little whitewashed villages.

A sunset to remember forever

In the Balearics there are some idyllic spots for watching the sun go down over and again (and not only from the lighthouses). One of the most mesmerising places is without doubt the landscape of the tiny islets of Es Vedrà y Es Vedranell in Ibiza, which just hum with energy. The terraces of Cala d'Hort are great for contemplating the sunset, and it'll be even more spectacular if you go up to the Torre de Savinar area, where people often meet up to play music. At Benirrás beach in Ibiza, the sun sinks into the sea to the sound of dozens of drums. Another place you'll never want to leave is the Cova d'en Xoroi (Menorca): here you'll find several terraces and viewpoints on a cliff that are also a bar and a club. Other evocative sights: watching the sun set from a sailing boat or kayak at Cala Saona, or from the Estany de Peix, a lagoon that's full of seagulls and cormorants (both in Formentera).

Bring out your hippie side

Miró, Chopin, Bob Dylan – there are so many artists and musicians who have found inspiration here on these islands that have a touch of magic about them. They became an icon of the hippie movement, above all in the 60s, and today something of the buzz of those times still lingers on in the street markets. The most famous of these is Las Dalias, held every Saturday in Ibiza. There are more than 300 stalls selling craft work, trinkets, incense, accessories, Adlib clothing (typical white, Ibizan style garments).  Plus live music food trucks, and above all a great atmosphere.You'll also love the summer FIRAC market in Ciutadella (Menorca), and the one that's held on Sundays at La Mola (Formentera).Happiness might be ephemeral, but when you're in the Balearic Islands it can seems as if it might just go on forever.