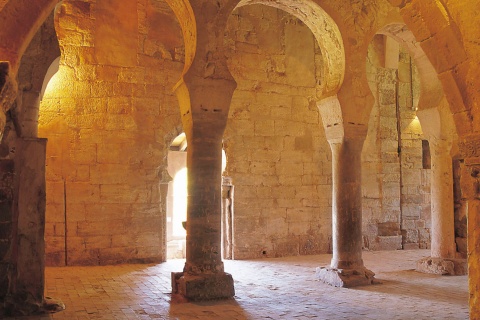 Suso Monastery in San Millán de la Cogolla
Suso Monastery was the setting for the first words of Castilian Spanish and also the first poems in the language. It received the World Heritage designation on 4 December 1997.
The cenobium, which is the monastery's nucleus, is Visigoth, built in the year 550, making it one of Spain's oldest. San Millán did his lent penance in its caves. In the 10th century it was inhabited by Mozarab monks and the horseshoe arch in its main doorway and the square chapels inside date from this period. The building has two naves, separated by horseshoe arches. In 964 the Iberian Peninsula's first encyclopaedic dictionary was written here: the Emilianense 46 Codex. In the 13th century, Gonzalo de Berceo wrote the first poems in the Spanish language. His remains lie in the Romanesque chapel.
Suso Monastery in San Millán de la Cogolla
---
Zona Monasterios
26326 San Millán de la Cogolla, La Rioja (La Rioja)
What to do
Travel plans for inspiring you
---