The summits of the Peñalara massif
The route begins at the Peñalara Visitor centre, situated in Puerto de Cotos (Rascafría). The forest track starts to climb through the beautiful pine forest to the first stopping point: the Mirador de la Gitana viewpoint. Its fabulous views are just a taste of what awaits you farther on. The path carries on up to a small hut, at which point you have to veer to the left. The climb takes hikers on a zigzag route up to the first summit, Hermana Menor (2,271 metres high); the next part of the climb is more gentle and you soon reach the second summit, Hermana Mayor (2,280 metres high), which offers a great panoramic view of the following elevation: Peñalara Peak. A final effort is then needed to reach the target destination, but once there, it will certainly have been worth it.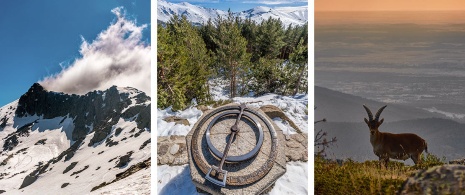 Risco de los Claveles
After a well-earned rest, you will come to the most difficult part of the route; the Risco de los Claveles. There are some very narrow stretches on this part of the route, with a sheer drop at the sides, so we suggest that anyone who suffers from vertigo to keep to the left. However, those bold enough to persevere will be rewarded with a superb panoramic view of the Pinilla Reservoir. Once the tricky part of the route is completed, you begin your descent down the Risco de los Pájaros. The following few kilometres are for enjoying and relaxing, as the most stunning landscapes of the route await you.
The lagoons of Peñalara
The Laguna de los Pájaros beauty spot is the first of these. Following this are the Laguna de los Claveles and, farther on, the Cinco Lagunas. The path continues its descent and at one point there is a small detour towards the Laguna Grande de Peñalara; although it tends to be fairly busy, it is worth leaving the path to pay it a visit. Then, you come to the final stretch of the route, which once again takes you past the Mirador de la Gitana viewpoint, and back to the car park of the visitor centre along the initial forest path.