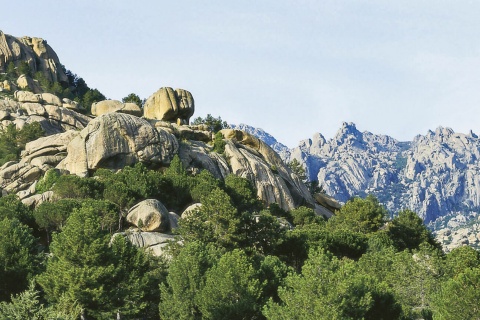 Reserva de la Biosfera de la Cuenca Alta del Río Manzanares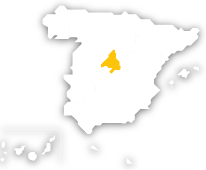 Manzanares: Madrid's reserve
---
In the north-east of the Community of Madrid we find the Cuenca Alta del Río Manzanares Regional Park (Upper Manzanares river basin), which was declared a Biosphere Reserve by UNESCO in 1993. Heights range between 600 and 2,300 metres, forming a landscape of peaks, lower mountain, and plains that are the habitat of numerous Mediterranean species.
The corridor that links the urban centre of Madrid with Sierra de Guadarrama is an area of incalculable natural value, thanks to the river that crosses it. The Upper Manzanares river basin has granitic peaks like La Pedriza, a place where griffon vultures and peregrine falcons dwell. This rugged landscape becomes smoother around Sierra del Hoyo del Manzanares, giving rise to holm oak, oak and ash forests. These woods alternate with pasturelands used for grazing, creating meadows that are good for raising bucks and red deer. In the lower parts, like around the Santillana reservoir and the Soto de Viñuelas, we find water-related crops and numerous colonies of water birds. This way, the so-called "agro-sylvo-pastoral" systems (pasturelands, meadows and grazings) are formed, which are very important for the conservation of the natural environment. In the area nearest to the Manzanares River there are wooded patches formed by willows, black poplars, ash trees and birch. Among the shrubs found here, notice the blackberries, the wild rose bushes and the honeysuckle. Keeping company the red deer and the bucks company in the Upper Manzanares river basin are badgers, wild cats, otters and wild boars.
Reserva de la Biosfera de la Cuenca Alta del Río Manzanares
---
Carretera Soto-Manzanares, s/n (Oficina de gestión)
28791 Madrid Region
Useful information
What you need to know
---
Cultural information

Within the limits of the Biosphere Reserve are several mountain towns, formed by traditional houses. The castle of Manzanares El Real and the monastery of San Lorenzo de El Escorial (declared a World Heritage Site by UNESCO) are other interesting places to visit.

Environmental information

The geomorphology of La Pedriza is unique in the Community of Madrid. The way that flora and fauna change as we descend the mountains is one of the most striking natural features of this environment.

Information for visits

Access to the park is free and it is possible to take different trails to explore it (guided, marked or independent trails). The Visitor Centre is located in La Pedriza, in the vicinity of Manzanares El Real.