Amazing views
Before setting out on the trail, you can begin your morning with a good breakfast on Plaza de la Baronía, followed by a visit to Chulilla castle to see the wonderful view from one of the highest points in the village. There are equally fascinating views from the viewing points at the start of the trail: Compuertas (where you can see the early 20th-century hydraulic works that regulate the flow of the river) and Carrucha, with views of Charco Azul (an idyllic lake that looks like a natural pool) and the Salto, where the gorge of the Turia is at its narrowest.
"A fun fact: the trail follows the path made by the workers of Chulilla when they were building the Loriguilla dam in the 1950s, to reach their place of work."
Following the path, you'll come to an enchanting spot with a small waterfall. Relax with the sounds and sights of nature in Los Calderones, a deep gorge with walls over 80 metres high.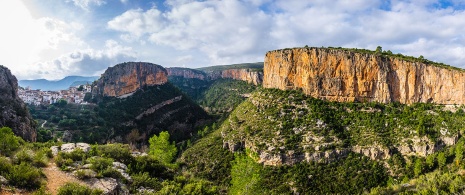 Up in the heights
The trail continues along the top of the gorge, crossing from one side to the other on two hanging bridges, undoubtedly one of the high points of the walk. The first one is 15 metres above the river and 20 metres long, and may be a little scary to cross, but it's very safe. The other is longer at 28 metres, and just over 5 metres high. They were both rebuilt in 2013 after the originals disappeared in 1957 when the Turia burst its banks and flooded the city of Valencia.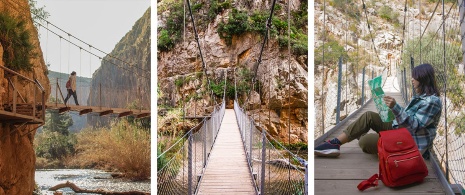 A great place for rock climbing
The trail continues to the reservoir along a narrow, leafy path where hikers can enjoy the different settings of riparian forest and Mediterranean scrubland. Traces of history can be seen on the way, such as the ruins of the 18th-century chapel of San José de los Gancheros, where loggers used to take shelter. If you're lucky, you can see climbers on the vertical sides of the gorge, as rock climbing is another of the area's attractions.When you get to the Loriguilla reservoir, take a break and restore your strength with a snack before turning around and taking the same trail back to Chulilla.