The Cola de Caballo is an emblematic hiking route in the Ordesa y Monte Perdido National Park. Each year, a great many visitors decide to set out on the 17.5 kilometre journey (there and back) to enjoy the Pyrenees and the striking beauty of the Ordesa Valley, one of the most important protected natural spaces in Europe, which furthermore has been declared a National Heritage site. 
The route to the famous Cola de Caballo waterfall is a comfortable, easy route, without too much elevation gain, that presents no technical difficulty. It's well signposted and the pathways are in very good condition, which means that it's suitable for everyone. It takes around three hours to reach the waterfall, and as the way back is downhill, it's quicker.
Waterfalls: when the river becomes a spectacle
Pradera de Ordesa is the starting point for several routes that run through the valley of the same name, among these the Cola de Caballo. From the car park, take the track and follow the signs to the waterfall. The whole of the trail is part of the long distance GR-11 route, which is also signposted with the usual red and white markers. The path runs along the banks of the Arazas river, climbing gently and leading into the forest until reaching the viewpoint over the first waterfall on the route, Arripas. The trail continues to the left, gradually winding into a pretty beech forest. The next falls are just a little further on, the Cascada del Estrecho.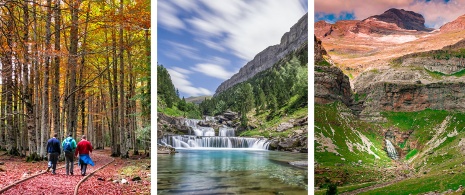 Afterwards the path continues to climb, up towards the Franchinal Cave section where it's half covered by overhanging rock, and then on to the stepped waterfalls of the Gradas de Soaso. If you look up, you'll see the peaks of Monte Perdido in the distance. The landscape changes, with meadows beginning to appear as you walk towards the Soaso glacial cirque and the end of the route, where you'll find the Cola de Caballo waterfall. Then it's back the same way, although when you get to the Arripas waterfall you have the option of taking a turn off, crossing the bridge, and returning to Pradera de Ordesa via the other bank of the river.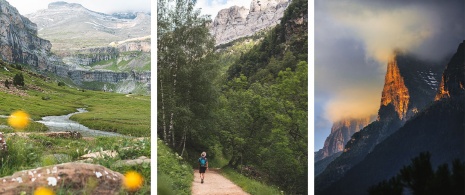 The circular Cola de Caballo route via the Senda de los Cazadores
You could also choose to do the circular Cola de Caballo route via the Senda de los Cazadores and Faja de Pelay. This is a less well-trodden route, and a more demanding one, as it's longer and the elevation gain is greater, making it a good alternative for experienced hikers. It's 20 kilometres long, and starts out from the same place, from Pradera de Ordesa, although in this case you'll need to take the path that runs in the direction of the Senda de los Cazadores.