A dip in Los Pilones
The trail begins climbing among oak trees to the viewing point of Chorrero de la Virgen, with a magnificent panoramic view of the Manto de la Virgen waterfall. It continues on to Los Pilones, a great place to stop for a rest and have a dip in its natural pools, carved out of the rock by water erosion. If you are going with children, the route from the visitors centre to Los Pilones is the perfect option for a day out in the countryside, including a swim, as it's an easy 2.5-kilometre walk without any major inclines. Walking and out and back again gives you a total of 5 kilometres. You'll see this linear alternative marked in green and white.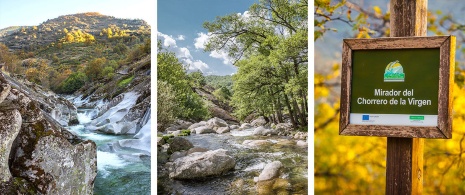 The bridge the Emperor crossed
The looped trail of Garganta de los Infiernos continues in the shade of the holm oaks of Risco Encinoso to a bridge with another pretty swimming spot, Puente del Sacristán, where there is also a mountain cabin. A little further on, the Tres Cerros gully meets the gorge of Collado de las Yeguas. Going up on the right, you can walk along the valley to the bridge at Puente del Carrascal, with fabulous views along the way. After crossing the gorge by the bridge, the trail turns towards another bridge, Puente Nuevo or Puente de Carlos V. Charles V, the Holy Roman Emperor, crossed this medieval stone bridge in 1556 on his way to his retirement in the Monastery of Yuste. The bridge crossed the Tres Cerros gully at an altitude of 880 metres, and marks the start of the last uphill stretch to Cuerda de los Lobos. From here the trail descends the hillside of Mt Reboldo, among chestnut trees, to the river and village of Jerte. Just before it arrives, it turns towards the valley and the starting point at the visitors centre.
The Carlos V Trail
Three kilometres of the Garganta de los Infiernos trail, from Puente del Carrascal, are shared with one of the most popular hiking trails in the Jerte valley: the Carlos V trail. This is an official linear trail (PR-CC-1 Ruta de Carlos V) 27.7 kilometres long, from Tornavacas to Jarandilla de la Vera. The route takes about 9 hours and is moderate to hard, with inclines totalling 1,145 metres, so it's a good option for more experienced hikers.