What you will find. An open-air museum
The sculptures you will discover in the pine forest and by the reservoir vary in height from one to six metres. They began appearing here in the 1990s, some of them taking years of work to carve into the hard rock, and they are all very quirky and unusual. They range from a Templar cross to pixies, a face evoking the great composer Beethoven, fairytale characters like "Chemary", and spiritual figures like the Maitreya.
Some are extremely striking, like the Krishna, which is four metres tall by three metres wide. Others are unsettling, such as "De Muerte", a skull and the only face looking to the sunrise, as if waiting to be reborn. And some are relaxing, like the "Dama del Pantano", the serene face of a woman which turns gold in the light of the sunset, and is lapped by water when the reservoir is at its highest.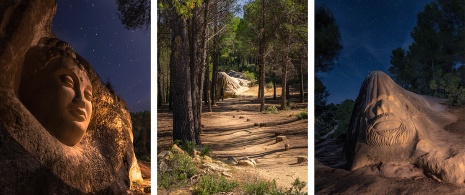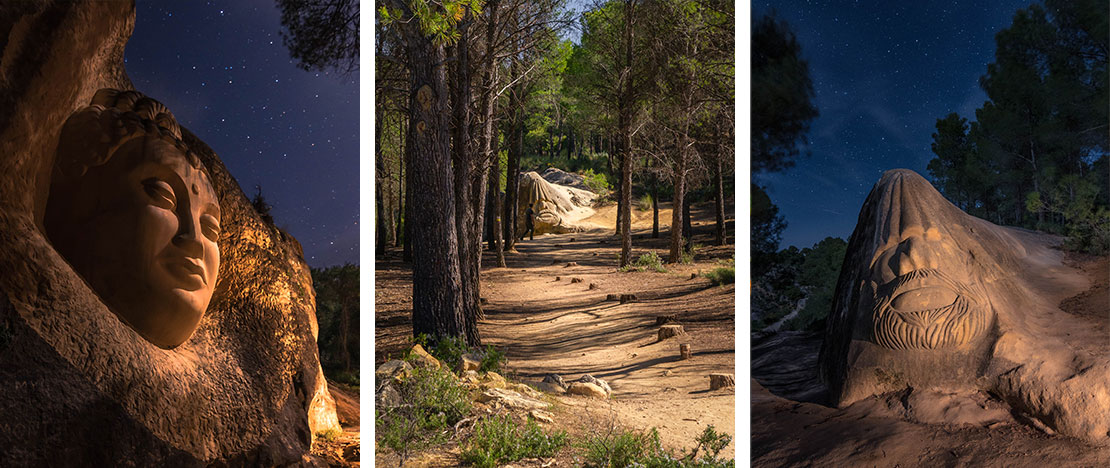 An alternative route
If you want to see more than just the Faces, there is a longer alternative route. This is the looped trail PR-CU46, which is 14.5 kilometres long. It starts and ends in the village of Buendía. It includes the Caras trail and the viewing point at Peña de la Virgen, a natural vantage point with lovely views of the reservoir. You can also follow it by bicycle.
"A fun fact: the waters of the reservoir cover the village of Santa María de Poyos, whose inhabitants were rehoused nearby."
 Whatever trail you choose, you'll find aromatic herbs like rosemary, sage, thyme, Mediterranean strawflower, and lavender, and with a little luck you can see birds such as herons, cranes, and marsh harriers.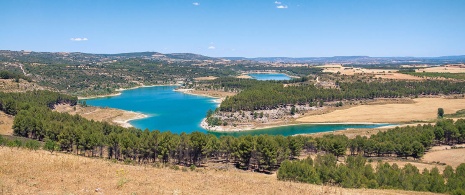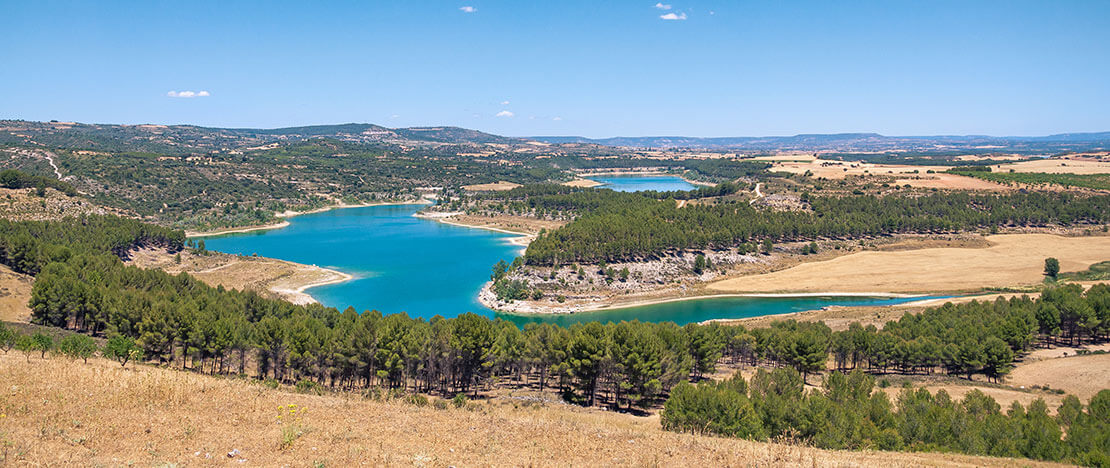 The surrounding area
As this trail is quite short, you can take the chance to see other interesting places nearby. For example, you can visit the village of Buendía, which is laid out on a medieval street plan. If you would rather spend the day in nature, we recommend the geo-trail along the gorge of the river Guadiela (PR-CU 47) to the chapel of Virgen de los Desamparados.And there are two places where you can explore the interesting history of the region. One is the Ercávica archaeological site, with the remains of an ancient Roman town (near Cañaveruelas, Cuenca). And the other is Recópolis Archaeological Park, with traces of one of the most important cities of the Visigothic kingdom of Toledo (in Zorita de los Canes, Guadalajara).