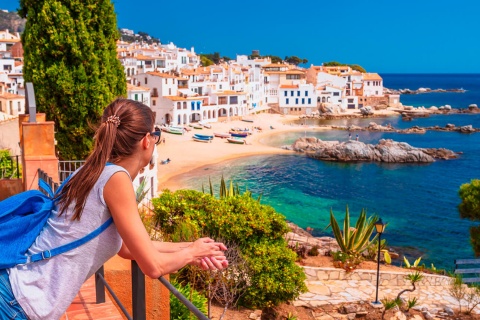 Some of the aspects of Spain that will simply seduce you
There are as many reasons to visit Spain as there are people, places, fiestas and hidden gems here. That's why it has been so difficult for us to choose its ten attributes that are sure to seduce you. Relax and get ready to enjoy the scenery as you count the minutes until you can travel to Spain.
1. Climate

If you want to escape the cold weather and clouds, Spain offers you almost 3,000 hours of sunshine a year. Its Mediterranean, almost sub-tropical climate allows you to enjoy outdoor activities in pleasant temperatures all-year-round. For example, the Costa del Sol (Malaga) and Las Palmas de Gran Canaria, boast average annual temperatures of 20.7ºC. Imagine the space you can save in your suitcase by leaving your coat at home!More information on the weather in Spain

2. Food and drink

Yes, Spanish gastronomy is one of the best in the world. And it's not just us who says so. The Mediterranean diet and everything that surrounds eating and drinking in our country makes everyone who visits us fall in love with the tapas, the ham, the paellas, the cocido (typical stew) and our wine. From north to south, from the Calle Laurel in Logroño to a beach bar in Malaga. From east to west, from some calçots (wild spring onions) in a cave in Tarragona to a seafood platter in the Rías Baixas of Vigo. A country full of flavours.Read more about gastronomy and oenology.

3. Fiestas

Whether it's our Latin character or because we know how to host a great celebration, any time of the year is a good time for enjoying a festival with its music, customs and flavour. We don't need excuses to fill our streets with life. The Carnival in Tenerife, Holy Week in Seville, Fallas in Valencia or the festival of San Fermín in Pamplona. These and many more fiestas will make you want to stay here forever. More about Spanish fiestas.

4. Culture

Numerous peoples and cultures inhabited these lands before it was named Spain. The Celts, Romans, Phoenicians, Moors… they have all left a unique cultural heritage across the length and breadth of the country dating back thousands of years to the present day. Imagine travelling back in time 20,000 years as you venture inside the cave of Altamira (Cantabria), immerse yourself in the rhythm of flamenco, visit the places that inspired Picasso or discover some of the world's most unique enclaves, such as the Alhambra (Granada) or the City of Arts and Sciences (Valencia).More about the art and culture of Spain

5. Landscapes

It doesn't matter if you prefer the sunrise or the sunset. Or if you prefer the beach to the mountain. Spain is made up of breathtaking, inspirational landscapes that you will simply fall in love with. You can feel like an authentic cowboy in the Almería desert, watch the spectacular view of Las Médulas (León) for hours on end or get away from everything while you listen to the sea at Las Catedrales beach (Lugo).

6. Hospitality

It's our way of being, feeling and experiencing life. We love to share everything with others, and especially with visitors, so we can show them everything that makes us so unique. We are ambassadors of hospitality, experts in making people feel right at home, even when they are thousands of miles away from it.More information on the customs in Spain

7. Shopping

Shops with the best brands at very appealing prices. This is what lovers of shopping can do in cities like Madrid or Barcelona, homes to the latest trends. Golden miles, large shopping centres, boutiques, vintage shops, local designers, markets... If you are visiting with plans for shopping, then come with an empty suitcase for your purchases.See more on shopping in Spain

8. Sport

Something else you mustn't forget to pack when you come - sports clothes. For years now Spain has been the perfect destination for sports tourism. With over 25 marathons a year, thousands of routes for hiking, cycling and horse riding, and with optimum weather and scenic conditions to get the adrenaline pumping with adventure sports.See more on sports and adventure holidays in Spain

9. Wellness

And to free the body and soul of endorphins, Spain offers a wide range of health and wellness tourism, and is positioned as one of the top destinations for these types of services. Immerse yourself in peace at one of the more than 50 spas Spain has to offer, or enjoy some therapies with the best climate the eastern area has to offer.

10. Contrasts

If there is one thing that makes our gastronomy, climate, fiestas and landscapes truly unique, it is the diverse contrasts that visitors to Spain can experience throughout the country. Because it is a place to suit all tastes, age groups and budgets. A destination that adapts to you, a place you will fall in love with and that leaves you feeling like you want to come back and keep discovering it.