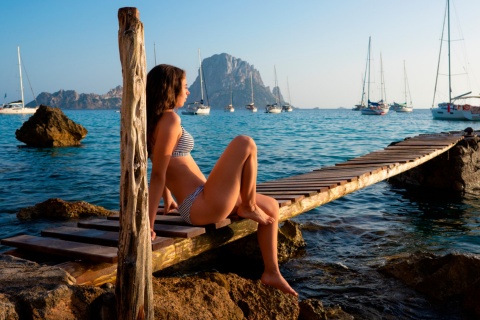 Feel like falling in love? Ibiza
Ibiza is an island that's barely 40 kilometres from end to end, but one that offers endless possibilities and captures the imagination of everyone who visits. A perfect destination whether you're travelling solo, with family or friends, or with a partner. And even though it's in the summer months that you can enjoy those crystalline waters, it's also a great winter destination as well.
Coves and beaches that are the stuff of dreams

It's impossible to list all the gorgeous beaches and coves here, simply because there are so many of them. Cala d´Hort, Salada, Vedella and Conta are just a few, and all are ideal for long lazy days in the sun. Don't forget your snorkelling gear so that you can explore the wonders of the seabed from the surface.

Food and drink

Bullit de peix (a sort of fishermen's stew) is one of the most typical dishes in Ibizan cuisine. Although there are lots of different variations, it generally consists of two parts: first, there's the fish (this might be halibut, monkfish, scorpion fish, etc.), served with potatoes and an aioli sauce, and then this is followed by arroz a la banda, rice cooked with the broth from the stew.And you absolutely must try sofrit pagès, a stew made with different kinds of fresh and cured meats, and seasoned with spices like cinnamon, cloves, saffron and paprika.Flaó is a dessert, and a particularly delicious one - a cheesecake made with a mix of sheep's and goats' cheeses, mint, and aniseed.As well as these, there are many other dishes that are well worth tasting too.

Nature

Here it's impossible not to mention the Ses Salines Natural Park, which extends from the south of Ibiza to the north of Formentera, and comprises around 2,838 hectares on land, and a marine reserve of over 13,000 hectares.The marine environment is notable for extensive underwater meadows of posidonia oceanica. This sea grass is beneficial to the fish population and to marine organisms, as well as keeping the waters clean and transparent. An impressive number of migratory birds also visit the area each year, such as flamingoes, for example. The island's great biodiversity is one of the reasons that it has been awarded World Heritage status. Furthermore, the Es Vedrà, Es Vedranell and the Poniente Islands nature reserves are also strongly recommended for nature lovers. Located in the south west of Ibiza in the municipal area of Sant Josep, they include the tiny islands of Es Vedrà, Es Vedranell, S´Illa d´es Bosc, Sa Conillera, S´Espartar and Ses Bledes.

Nightlife

Ibiza's nightlife is famous the world over, and the island is particularly well known for its parties. Sophisticated pubs and large discotheques reinvent themselves each year, attracting the season's top DJs, and consequently thousands of tourists. Some of the most popular venues are Amnesia, Pacha, Privilege, Space, Ushuaïa, DC10, Es Paradis, Bora Bora, Lío - and the list could go on.But the island has a great deal more to offer when the sun goes down, for example long walks under the stars and spectacular sunsets.

Hippy markets

If you want to go home with some great gifts as well as some unforgettable memories, why not take a stroll around some of the flea markets, where you'll find decorative handicrafts, clothes and much more.So, here you have just a few of the many excellent reasons for visiting this small Mediterranean paradise.