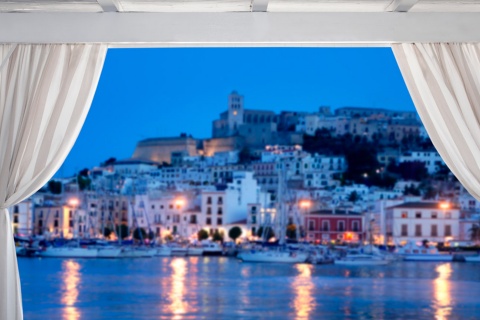 Unforgettable nights in Ibiza
Ibiza, also known as The White Island, measures barely 40 kilometres from one end to the other yet it has the magic and unique ability to captivate all those who visit. Apart from its idyllic beaches, scenery and villages, it is internationally famous for its nightlife. What's special about it? Here we offer you some more details:
Sunsets

A spectacular visual you can't miss on your visit to Ibiza, as the island boasts an endless choice of locations to enjoy the unforgettable sunsets. Some of the essential spots are: Cala d´Hort, Benirràs, Cala Comte, Cala Bassa, Punta Galera and the famous Es Vedrà Island.

Evening walks

A stroll through the cobbled streets of Ibiza's walled old town, Dalt Vila, a trip into San Antonio, a stroll around Ibiza's port to admire the fabulous yachts moored there… There are numerous ways to spend a peaceful, pleasant evening.

Hippy markets

The hippy markets are still very much an icon of Ibiza. Although most of them are open during the day, several of them are also open on certain evenings of the week during the summer months, such as Las Dalias hippy market. They are always a great option if you love crafts and live music.

Food and drink

Bullit de Peix, Sofrit Pagès, Frita de Pulpo... Authentically Ibizan (and delicious) dishes that you simply have to try at the chiringuitos (beach bars) where the sea breeze is the only background music. Can you imagine it? To finish, try the legendary Flaó, a type of tart made from sheep or goat's cheese, spearmint and anise. And if you want to give it a special touch, pair it with a glass of Frígola, a smooth liqueur made from distilled wild thyme flowers grown on the island.

Nightclubs

Ibiza is home to the largest and most famous nightclubs in the world. Between June and October they are the meeting place for the world's top DJs. We could tell you lots about them but you have to experience them first hand.

Boat parties

Continuing with the theme of partying, a growing trend in recent years is hiring boats and yachts for hosting parties, kicking off at sunset. Sounds like a plan and the fun is guaranteed!
These are just some of the reasons why it's worth experiencing and enjoying Ibiza at night. Come and see for yourself and discover the endless possibilities awaiting you on The White Island.