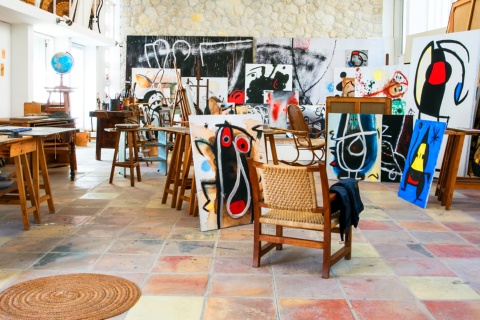 Five must-visit museums in Palma de Mallorca
The capital of the Balearic Islands is a fascinating place to enjoy a holiday, not only because it's close to some fabulous beaches and coves lapped by turquoise waters, but also for its diversity, culture and history. In Palma de Mallorca, you can enjoy the city to the hilt as it is home to a large number of museums on different topics ranging from history and sports to art. Read on and discover them all.
Es Baluard

One of the largest and most well-known museums on the island, Es Baluard, located in the heart of the city and devoted to modern and contemporary art. In its galleries you can find work by both local and international artists. More than 780 works of art have already passed through its walls and corridors in its more than ten years of history, and it is a must-visit if you are an art lover. And once your visit is over, the best thing you can do next is take a relaxing stroll around Palma Bay.

La Almudaina Royal Palace

This 14th century building, the official residence of the Spanish Royal Family in Mallorca, is located very close to Palma cathedral, a very central area and one of the key places to visit. Some of the halls of this enormous palace are open to the public, and in the museum you can find precious tapestries, paintings and some Islamic and Gothic style architectural details, as well as decoration and furniture worthy of a building of these characteristics.  

Pilar and Joan Miró Foundation

This foundation has more than 7,000 works by the famous artist Joan Miró, and some other works by avant-garde artists, in various forms, such as paintings, sculptures and sketches. In addition, here you can see the artist's original studio, which is intact and offers a perfect way to understand what his creative process and work was like. You can also stroll around the Sculpture Garden, an annex to the foundation dedicated to large-format works, where you can relax and unwind in the garden café.

Museu d'art Sacre (Museum of Sacred Art)

With more than 100 years of history this is the island's oldest museum, first opened in February 1915. This Diocesan Museum has been a project of several bishops throughout history. It was pioneered by Mateo Jaime, who in 1878 began to create a small collection that has grown over time. But it wasn't until 1906 that Pedro Campins started the project, rebuilding the area where the current archive is located. This museum displays an extensive collection of works of religious use and provenance, testimony of the hundreds of years of history and culture of the island.

Museu de Mallorca (Mallorca Museum)

A museum where you can learn about the history of the island first hand. The building that houses it was built on the site of a former 16th-century Baroque palace and retains much of its original structure. In its rooms you can find artefacts ranging from prehistoric times to the 19th century. There is also an important display of ceramic work of different styles and times in history, including the Modernist style of the La Roqueta factory.
Palma de Mallorca is home to a large array of museums for exploring, understanding and enjoying the island's history and culture. Don't miss them!