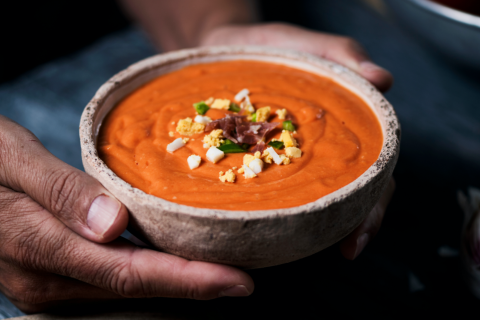 From Ferring UK to Andalusia: enjoy a taste of Spanish cuisine
In the town of Ferring (West Sussex, UK), you'll find a restaurant serving up Spanish food called "Andalucía". This establishment has adapted its décor to recreate the iconic style and atmosphere of Spanish bars. It has become a fantastic meeting point for lovers of Spanish cuisine, and particular for fans of dishes from southern Spain.If you enjoy these types of restaurants, you might like to sample some of these traditional recipes on a trip to the real Andalusia. It's time to taste the original version!
Cazón en adobo

Cazón (huss) is a member of the shark family that's steeped for eight hours in a marinade of sherry vinegar, salt and spices such as bay leaf, garlic, paprika and oregano. After the marinating period, it is dipped in flour and fried in olive oil. The huss is normally served up in small pieces, usually in the form of cubes. This dish never fails to make an appearance on the menus of Cádiz's beach bars!

Habas con jamón

Broad beans and ham is a classic dish from Granada: a light snack usually served at dinner or as an aperitif. The beans are usually fried, and served with small portions of crispy ham.

Patatas a lo pobre

"Poor man's potatoes" are peeled, thinly sliced potatoes, pan fried in olive oil with onion and sweet peppers. In different regions, they may be cooked with cloves of garlic, bay leaves or even chillies.Do you know why they're called "poor man's potatoes"? The name originates in the post-war period, when people's cupboards wouldn't contain much more than basic cooking ingredients such as onions, potatoes, garlic and peppers. Hence the name of this recipe, today served as a side dish. However, in its time, it was served as a main course intended to feed the whole family.

Pescaíto frito

This very popular tapa from the Andalusian coast is also one of the simplest. It consists of small fish (anchovies, whitebait, mackerel or cuttlefish, among others) coated with flour and fried in olive oil. Why not try them with a squeeze of lemon - a truly delicious treat!

Flamenquín cordobés

Flamenquines traditionally consist of slices of serrano ham wrapped in strips of pork loin, although cheese can also be added as a filling. It is then coated in breadcrumbs and fried in olive oil.This dish is normally served with fried potatoes – as if it wasn't enough already!

Andalusian gazpacho

A true culinary classic from Andalusia that has been successfully popularised throughout Spain. This is a soup made from tomatoes, cucumber, peppers, garlic, onions, vinegar, water and olive oil. It's also common to blend the ingredients together with a piece of stale bread soaked in water. The soup is served cold, and you can sprinkle on some croutons to add a little crunch. The ideal dish for those hot summer days!

Pipirrana

You could say that this is the solid alternative to gazpacho, as it contains almost the same ingredients. Pipirrana is a traditional salad from Jaén which can include either tuna or hard boiled eggs to make it even tastier. When the heat refuses to let up, cool down with a few refreshing bites of this salad.

Salmorejo

Salmorejo cordobés is made from a base of tomatoes, vinegar, breadcrumbs, garlic and olive oil. The dish, served cold, is easy to make and very tasty. You might think it sounds a lot like the Andalusian gazpacho, and the truth is that is considered part of the same family! However, salmorejo has a denser, creamier texture that differentiates it from gazpacho (which is so liquid that you can even drink it). If you like salmorejo, why not try it with a garnish of chopped ham and grated hard boiled egg? Delicious!And there's much more: grilled sardines, Iberian ham, oxtail stew, ajoblanco soup, and more. You'll find original regional dishes in the south of Spain, the mere memory of which will be enough to make your mouth water.
What to do
Travel plans for inspiring you
---