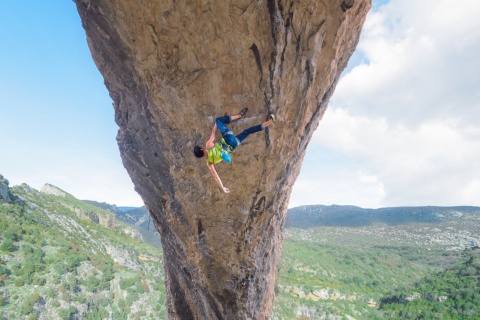 Trekking and rock climbing in the north of Spain
Take the Green Spain, the Pyrenees, the Picos de Europa and the Lakes of Covadonga. The north of Spain is markedly mountainous, with thousands of routes between rivers, villages and gorges. Whether on foot or through the rock climbing routes, discover northern Spain from up high!
Rodellar, Huesca

The landscapes of Huesca is one of the best destinations for trekking, mountaineering and rock climbing. There you can find a small mountain village, Rodellar, which is considered a paradise for climbers. The surrounding landscape has been converted into a recreation area for adventure sports. Rodellar is sheltered by the Mascún ravine, in the middle of Sierra de Guara. You can explore canyons and imposing natural walls, waiting for the bravest to climb them. This mountain range also offers an extensive network of marked paths, and several pools where you have a refreshing swim after an intense day of sports.

Siurana, Tarragona

Siurana is one of those charming villages in the Catalan area of Priorat. Its stone houses were built on top of a rock, which transforms this municipality into a natural viewpoint. From there, you can enjoy views of the Siurana reservoir and the Sierra de Montsant. When you walk along the routes of this natural park, you are bound to come across climbers from all over the world – this is a hotspot for lovers of this sport. Also, the sports rock climbing points of Siurana and the Catalan municipality of Margalef have been recognised as some of the hardest on the planet.

The Transpirenaica

Would you like to explore the Pyrenees from end to end? The Transpirenaica was classified as a long-distance path, and along its 800 kilometres, it crosses several Spanish regions such as the Basque Country, Navarre, Aragon and Lleida, although practically half of the route goes through Catalonia.The Transpirenaica attracts a large number of international tourists, since it is known as one of the most beautiful and challenging routes in Europe. Go trekkingthrough the amazing Irati Forest, or protected spaces like the Aigüestortes i Estany de Sant Maurici National Park and the Ordesa and Monte Perdido National Park. Ordesa is also a promising choice for rock climbing, because its main peaks exceed 3,000 metres in altitude, and you can climb its amazing caves and canyons. The Pyrenees, in general, are a paradise for this sport.

Naranjo de Bulnes, Picos de Europa

The Naranjo de Bulnes is one of the best-known peaks in the Picos de Europa National Park, for its 2,519 metres of altitude and because it has become an icon for rock climbing in Spain.Another option is to climb on foot, following a path of approximately 13 kilometres. The charming views of the park will enliven the ascent to the summit. At this point, you will have to change your hiking boots for climbing shoes, since you need to climb to reach the top of the Naranjo de Bulnes.