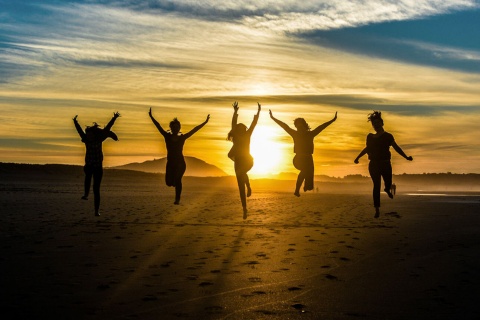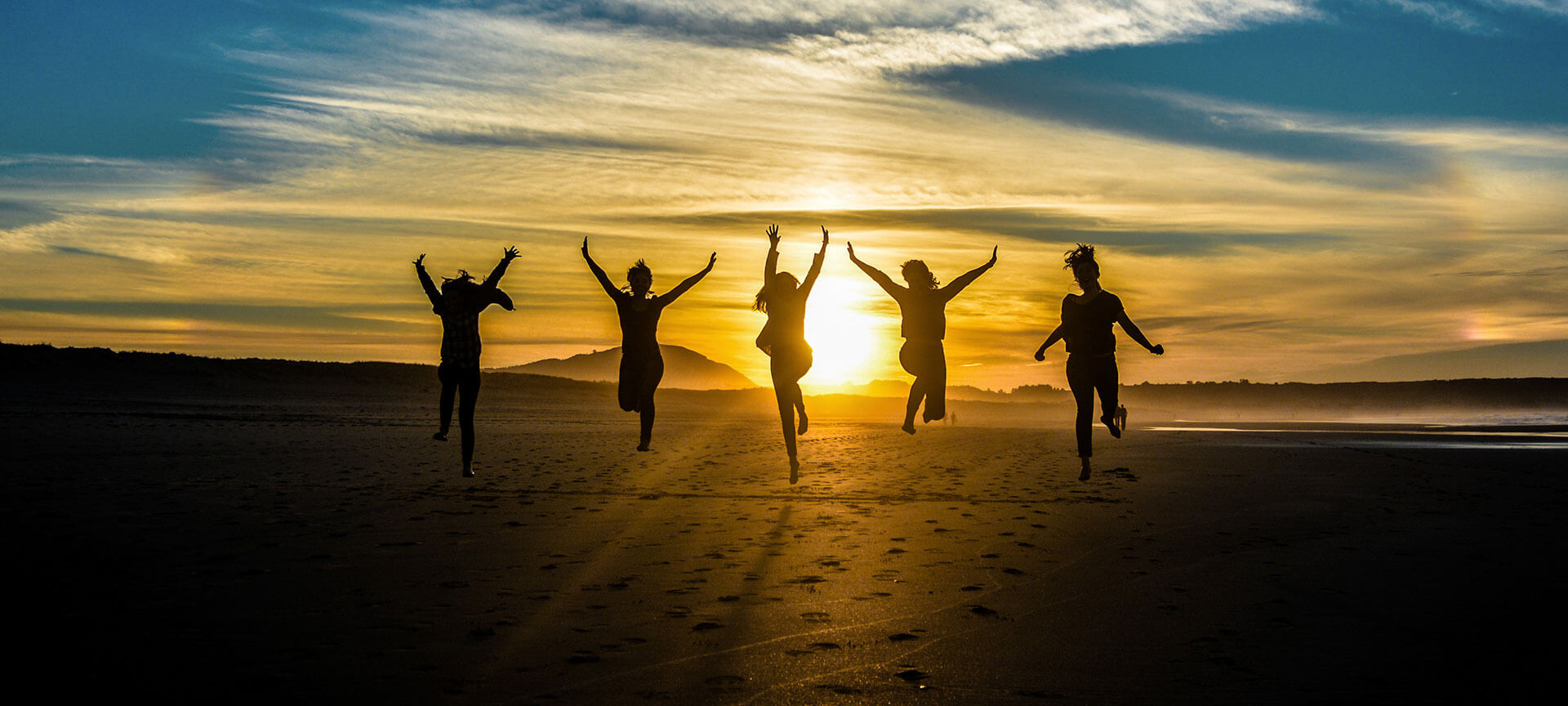 Switch yourself on: 10 ideas for travelling with friends and getting back to normal
Outdoor activities and friends to enjoy them with. Who doesn't want that?Here are 10 suggestions for having a great time on your next holiday in Spain. Nature, sports, music and routes which are even better experienced as a group. Keep smiling, because the time is nearly here.
ALL YEAR – St James' Way

Thousands of people do it and almost all of them agree: the Camino is a unique, different experience worth doing at least once in your life. Take a backpack and comfortable shoes, and get ready to walk a stage on Spain's most famous pilgrimage route. The end point is Santiago de Compostela, the Way runs through northern Spain, and good company will be a great motivator as you travel through beautiful scenery, discover rich heritage and eat some really delicious food.

ALL YEAR - Motorbike tours

This is one of those ideas you'll remember with pleasure for years to come. A group of friends, hundreds of kilometres to travel, and the adventure of riding a motorbike through beautiful landscapes. There are plenty of options, depending on your interests. Riding along the Mediterranean coast of Spain? Following the Silver Route? Crossing colourful Andalusia? Discovering the green valleys of Asturias? Or even travelling on your own bike from home to attend a World Motorcycle Championship Grand Prix?

ALL YEAR – Weekend getaways

Barcelona, Madrid, Bilbao, Valencia, Seville and even Ibiza are top summer destinations for a quick break with friends. The reasons? Excellent transport links from everywhere in Europe, an unbeatable range of leisure, culture and entertainment, and lots of interesting places close together enough to visit in just a few hours. Which is your pick?

ALL YEAR – The world's most dangerous footpath

At least, it was until recently. We're talking about Caminito del Rey (in Málaga, Andalusia). It's now been made safe for visitors, but it's still just as spectacular and dizzying as it ever was. Its location, very close to the Costa del Sol, makes it easy to combine with a few days on the Mediterranean beaches, or even a round of golf in the sport's European capital: Marbella

SPRING – Rafting and white water

Excitement, speed and lots of action. The spring thaws turn the rivers into fast-flowing torrents and a thrilling ride for your team. While the rivers are fuller in spring, this is still a great option in early summer. There are many areas where you can do this, but one of the best is in the Pyrenees of Lleida, with some of Europe's best-known rivers for rafting, such as the Noguera Pallaresa and the Noguera Ribagorzana. See more possible destinations here.

SPRING AND SUMMER – Zipline time

It's pure adrenaline - or pure magic. We have two unusual and very special ziplines to share with you. The first, in Fuentespalda (Teruel, Aragón), will keep you in the air nearly two minutes as you fly two kilometres, on one of the longest ziplines in Europe. The second is the only one of its kind in the world, because you travel in time as well as space. It's in Sanlúcar de Guadiana (Huelva, Andalucía), and as you speed along at 70 kilometres an hour you'll also travel back an hour in time. What's the trick? You cross a frontier as you fly, and when you come back to earth you'll be in Portugal, where it's an hour earlier.

SPRING AND AUTUMN – 4x4 or quad bike tours of unique landscapes

What are the advantages of a four-wheel drive vehicle? A guide can take several of you on a trip into hard-to-access terrain. Why choose a quad bike? Everyone can drive, and the extra freedom is extra fun. Either way, what's important is deciding where you and your friends are going to ride. You can start with our suggestions. A lunar landscape? Take note of the routes in Bardenas Reales Natural Park (Navarre). Movie-worthy deserts? Tabernas (in Almería, Andalusia) or Monegros (Huesca and Zaragoza, in Aragón). A nature reserve where the landscapes change with the seasons? Our pick is Doñana National Park (in Huelva, Andalusia). Volcanic terrain and constant good weather? Choose the Canary Islands.

SUMMER – Time to set sail

Whether or not you're a seasoned sailor, a few summer days on the coast of Spain is a fantastic opportunity to enjoy water sports. You can join a sailing course (for any level) or get certified for scuba diving. Try out surfing or windsurfing, or rent water scooters on the beach. The options are plentiful and can be enjoyed everywhere along the coast.

SUMMER – Life is a festival

From June to September, Spain moves to the beat of the music, as thousands of young people dance till they drop in festivals. Some of them are in beach destinations, like the famous FIB, Arenal Sound, and Los Álamos Beach. Others are in major cities, like Sónar or Primavera Sound in Barcelona, and MadCool or Dcode in Madrid. And there are alternative options like the Ortigueira Celtic World Festival or the Rototom Reggae Festival. Check the dates at this link and get ready to dance.

WINTER – Enjoy the snow and the après ski

If you think Spain is all sun and sand, you're in for a surprise. It's one of the most mountainous countries in Europe, with plenty of snow in winter for fun at its ski resorts. Some of the most prestigious are La Molina (Girona, Catalonia) and Sierra Nevada (Granada, Andalusia), regular venues on the international ski circuit, or Baqueira-Beret (Lleida, Catalonia) and Formigal (Huesca, Aragon), offering the most kilometres of ski slopes in the Spanish Pyrenees. Snowshoeing, heliski, hiking, dogsledding, hot water spas, and a very wide range of après ski activities in all the resorts ensure you'll have a great time on a winter holiday in Spain.