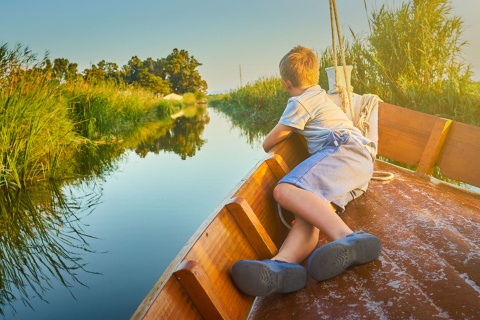 Eight essential getaways if you are in Valencia
Are you going to Valencia for longer than the weekend? Well then you're in luck, because you'll have time for a day trip or two without venturing too far from the city. Here are some of the best plans outside the city:
Just 10 kilometres from the city lies this natural space where you can watch stunning sunsets and take an idyllic boat ride. It features the largest lake in Spain, surrounded by paddy fields. Hop into a traditional handmade boat called an albuferenc, visit a traditional cottage and try an authentic paella (which is said to have been invented locally). In the nearby town of El Palmar you can try this delicious Spanish dish and other recipes including eels in all i pebre (garlic and paprika sauce).Valencia is served by city bus routes 24 and 25. Both are free if you have the València Tourist Card. And if you fancy going by bike, there is a specific lane and even a 78-kilometre route that goes around l´Albufera through the ports and fishing villages surrounding the lake.

Xurra Greenway: discovering the orchards of Valencia

Imagine yourself on a bike again, but this time cycling past orange groves, vegetable fields and traditional cottages along 15 kilometres of old railway line that has been repurposed as a path. This route runs between Valencia and Puçol. The landscape that it crosses, as well as being rich in nature, is of great cultural significance. This orchard is irrigated by the Turia river and is the fruit and reward of Roman efforts to establish a water system that was later promoted by the Arabs and these days can be found in very few places on the planet.It is the perfect plan, especially if you are travelling with children.

Less than 30 kilometres from Valencia, if you follow the V-21 road you will arrive in Sagunto. As well as its beaches, there are three monuments that make this place special. The first is castle: a two-thousand-year-old fortress surrounded by walls featuring elements from different cultures. Secondly you must visit the Roman circus that once catered for 20,000 spectators. Finally, no trip is complete without visiting the Roman theatre, one of the most important legacies of Roman culture in Spain. Fancy venturing on this journey through time?

Sierra Calderona Nature Reserve

Just over 30 kilometres north of Valencia, and almost on the shores of the Mediterranean, lies one of the most beautiful nature reserves in the area. There are several routes to choose from. One of the most popular takes you to the top of El Garbí (601 metres above sea level) where you will be rewarded with a breathtaking panoramic view.Over the years different cultures have settled in this mountain range due to its beautiful natural setting. Some religious communities found spiritual peace here and built several monasteries. It is worth visiting the Portaceli Charterhouse monastery or the Franciscan Convent of Sant Esperit, in Gilet.

Coves de Sant Josep

Saint Joseph's caves, located at the entrance of the Sierra de Espadán Nature Reserve, are a group of natural caves in the municipality of Vall de Uxó, about 50 kilometres from Valencia.What's so special about them? They house Europe's longest navigable underground river. The tour lasts 40 minutes and covers 800 meters by boat (with a boatman-guide) and 250 metres on foot. You will see whimsical geological formations and paintings and engravings declared a UNESCO World Heritage Site. Sometimes live concerts are also arranged. The more adventurous can even have a go at 'speleokayaking'.

The suspension bridges of Chulilla

About 60 kilometres northwest of Valencia you will find one of the most beautiful hiking routes in Spain: the Los Pantaneros, in Chulilla. First you can take a stroll around the pretty town with its whitewashed houses and narrow streets and then embark on a 10-kilometre route that takes about three hours to complete.Long, hanging wooden bridges will take you across the landscapes of the Hoces del Río Turia, canyon, the Loriguilla reservoir and the Charco Azul (an idyllic lake that looks like a natural pool).

Xátiva Castle

About 60 kilometres south of Valencia liesXátiva: a beautiful, walled town surrounded by nature. Your eye will be drawn to its striking castle featuring both Gothic and Islamic architecture. There are other fascinating monuments such as the Collegiate Church of Santa María and the birthplace of Pope Alexander VI, which is also part of an interesting guided tour of the House of Borgia.In Xátiva not everything is culture-related though. There is an excellent hiking route that will take you to the impressive Cova Negra, a site where remains of Neanderthals and ancient paintings were unearthed. One final tip: do not leave Xátiva without trying the exquisite local delicacy of baked rice.

If you are looking for a special beach spot, you must visit the town of Xábia/Jávea, which is 112 kilometres to the south and will take you into the region of Alicante. With whitewashed houses, stone balconies and the blue dome of the Hermitage of El Calvario, it is a joy to stroll around.It also boasts some of the most beautiful coves on the Mediterranean, with calm and crystal-clear waters surrounded by vegetation. At the top of the must-see list are Cala Granadella, Cala Barraca or Portitxol and Cala Blanca. Once you see some photos you'll want to set off straightaway!
What to do
Travel plans for inspiring you
---