MORNING
Why not spend the first part of the day on the beach.
In the Canary Islands the weather is always pleasant, with the temperatures during the coldest months ranging between 16ºC and 24ºC. As soon as you wake up you could go for a swim, sunbathe or go for a stroll along its best-known beach, Las Teresitas. It is alive with palm trees and, although it belongs to Santa Cruz de Tenerife, it is located in the town of San Andrés. Its calm waters and great facilities are ideal if you are travelling with children. A little further from the city lie the beaches of Taganana and Benijo. The council has installed a series of webcams so that you can check them out in real time.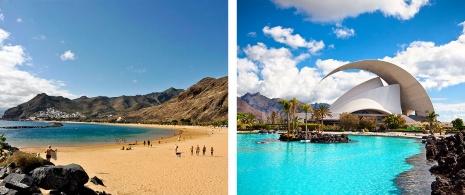 Other places to take a dip The César Manrique Maritime Park, a complex of several swimming pools with artificial waterfalls and beautiful views.If instead of relaxing you are looking for a bit of "action", try diving, snorkelling, surfing, sailing or paddle-surfing. You will find a whole range of activities at the Marine Sports Centre.