MORNING
The first part of the day could be spent at the beach.
In the Canary Islands, the weather is always good, with temperatures ranging between 16ºC and 24ºC even in the coldest months. This means you'll be able to wake up and go for a dip, sunbathe, or simply take a stroll along the most famous beach, Las Teresitas. It has dozens of palm trees, and although it belongs to Santa Cruz de Tenerife, it's actually located in the village of San Andrés. Calm seas and all the amenities make it perfect if you're travelling with children. A little further from the city you'll also find the beaches of Taganana and Benijo. The town hall has installed a series of webcams, which means you can see what things are looking like in real time before setting out.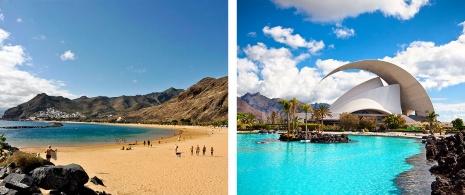 Wanting more options for a refreshing dip? The César Manrique Maritime Park is a complex with several pools featuring artificial waterfalls, and boasts stunning views.If you're feeling more like action than relaxation, then you why not try your hand at scuba diving, snorkelling, surfing or paddle boarding. A varied range of activities are on offer at the Marine Sports Centre.