DAY 1:
The first day of your visit will be spent discovering some of the city's most famous monuments, such as the Cathedral or the Real Alcázar, then on to the Torre del Oro or La Maestranza Bullring. A truly special day awaits you.
A morning of history
You can start your morning walk at Plaza del Triunfo. This central location boasts Seville's three World Heritage Sites: the Real Alcázar, the General Archive of the Indies and the cathedral with its Giralda, a belltower over 90 metres tall with fantastic views over the entire city.The cathedral, the world's largest Gothic house of worship, is also the final resting place of Christopher Columbus. He is at least partly responsible for the existence of another icon of Seville: the General Archive of the Indies. Now an archive of the colonies, at the height of the Spanish empire this building was the point of entry for merchants and their goods arriving from the Americas. You can follow up with a visit to the Real Alcázar, one of the world's oldest palaces still in use.
"T" in the afternoon: toreadors, tapas and the Torre del Oro
Visit the Arenal neighbourhood in the afternoon, less than 10 minutes' walk from the cathedral. Next to the Guadalquivir, the river at the city's heart, is one of its most authentic neighbourhoods. Here you have another taste of history in the Torre del Oro, now a maritime museum.Just ten minutes away is one of the most iconic sights in Seville: the Maestranza bullring, with its colourful exterior. Depending on the season, there may even be a bullfight scheduled. To end the afternoon with a good dinner, there are plenty of traditional taverns less than five minutes away offering excellent tapas, such as pescaíto frito (tiny fried fish) or a platter of delicious Iberico ham.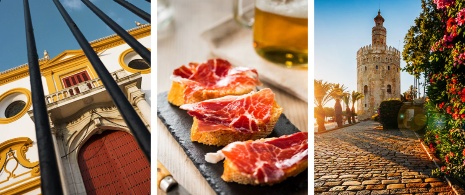 A city full of "duende"
No visit to Seville is complete without a flamenco show. You can walk to Tablao El Arenal, five minutes from the Maestranza bullring, or a little further - about eight minutes - to Tablao Los Gallos. Two unique experiences where you can enjoy great live performances by flamenco guitarists, dancers and singers.