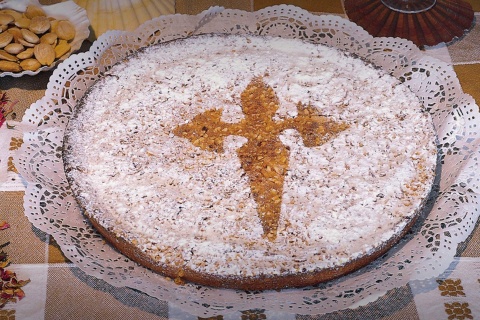 'Tarta de Santiago' (St. James Tart)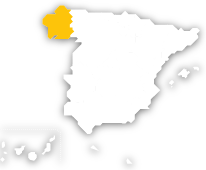 Ingredients

Ingredients: For the base: 1 Egg 125 gm of Sugar Flour (about two glasses) Cinnamon A spoonful of Water For the filling: 4 Eggs 250 gm of Sugar 250 gm of Ground almonds Lemon Rind Cinnamon Icing sugar

Preparation

To make the base, beat the egg with a spoonful of water, the sugar and a little cinnamon. Gradually add the flour until it forms a mixture than can be kneaded. Roll it out with a rolling pin and line the bottom of a tin that has been greased and sprinkled with flour beforehand. For the filling, whisk the eggs with the sugar and the lemon rind. When it begins to froth, add the ground almonds and the cinnamon. Fill the tin with this mixture and place in an oven pre-heated to 180ºC for about 25-30 minutes. For the final touch, cut out a St. James cross out of cardboard, place it in the middle of the tart and dust the whole tart with icing sugar. When you remove the cross, the shape will remain engraved on the tart.
What to do
Other recipes that may interest you
---
What to do
Travel plans for inspiring you
---