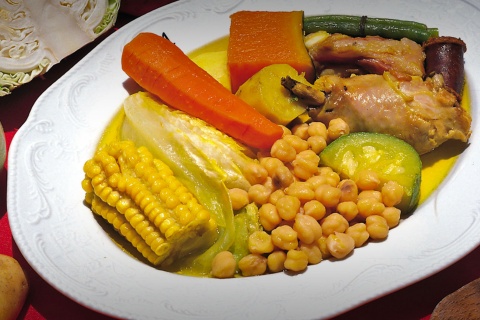 Canary Island Stew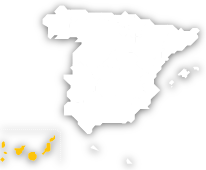 Ingredients

Ingredients for 4 people: 1kg of beef ¼ of a chicken 1 beef bone 125g of streaky bacon 125g of chorizo 250g of chickpeas 1 peeled onion 2 tomatoes 250g of cabbage 200g of pumpkin 2 peeled sweet potatoes 6 medium-sized potatoes 2 carrots 150g of green beans 2 small courgettes 2 cloves of garlic 2 spoonfuls of olive oil 3l of water 1 spoonful of paprika some saffron strands 1 teaspoon of black pepper salt

Preparation

Put the chickpeas to soak the night before. Chop the tomatoes, the cabbage, the courgettes and the pumpkin and peel the carrots. Put a pot with three litres of water on to the heat and when it comes to the boil put in the chickpeas, the meat, the bone, the tomato, the onion and the salt. Leave to cook for 1 hour. Then, strain off the stock and put aside the meat and chickpeas. Crush the garlic, pepper and paprika in a mortar and then add the oil. Cook the vegetables in the reserved stock with the chorizo, the streaky bacon and the mixture from the mortar for 20 minutes. Add the sweet potatoes, the potatoes and the saffron and keep on the heat for another 30 minutes.

Presentation

Present the ingredients in serving dishes with oil and vinegar separate so each diner can add it to taste.
What to do
Other recipes that may interest you
---