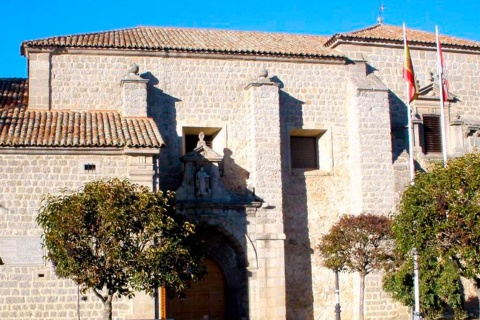 Royal Monastery of Santa Ana
The future Isabella I 'la Católica' was educated as a little girl in this convent of Cistercian nuns founded in the 14th century and completely rebuilt in the 16th century.
The building was completed in 1350, but was completely renovated throughout the 16th century in keeping with the precepts of the Renaissance style of the time, after which this newly resplendent building was used as a school for nobles and members of the royal family. In addition to the church and the choir stalls, features of interest in the ensemble as a whole include particularly its elegant rectangular cloister, which is unusual in having three storeys or levels in the same style. These spacious lintelled galleries are supported on columns with capitals. Two cornices decorated with spheres separate the three floors, which are connected by means of three stairways with cross vaults, rampant arches and finally worked trusses. The convent was restored in 1985 and today serves as the administrative offices of one of the departments in the regional government.
Royal Monastery of Santa Ana
---
Plaza de Santa Ana, s/n
05001 Ávila (Castilla y Leon)