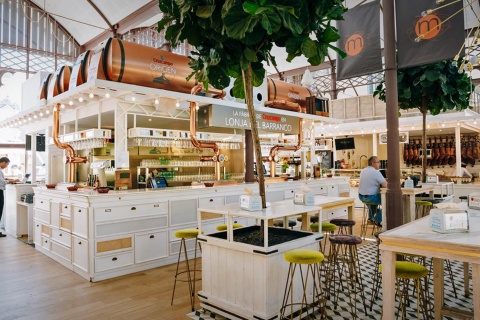 Lonja del Barranco Market
Distributed on two floors, Lonja del Barranco Market is an attractive gourmet market on the foundations of an historic building, offering a balanced combination of cuisine, leisure and cultural.
At the foot of Isabel II Bridge, overlooking the Guadalquivir River, Lonja del Barranco Market stands on the site of the old Seville market, designed by the popular French engineer Gustave Eiffel in 1861. It has an area of over 1,200 square metres and a score of stalls with fried fish, seafood, stews, cold meats, roast chicken, pies, cheeses, sushi, pizza, meat, ice cream, gourmet food, flowers and books, oils, fruit, rice, cakes, wine and cocktails. In addition, it offers cultural events like live music and theatre, art and photography exhibitions, lectures, courses, workshops and cooking demonstrations.
Lonja del Barranco Market
---
C/Arjona, s/n
41001 Seville (Andalusia)