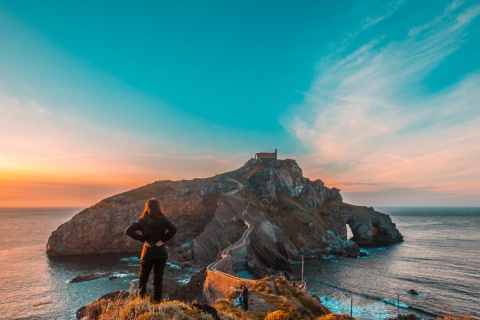 What to see in the Basque Country: walking paths
In this autonomous region, you can find one of the areas with the greatest diversity of natural spaces in all of Spain. Green meadows, deep forests and cliffs facing the sea for peaceful walks while you travel through some of the most incredible landscapes you have ever seen. Discover some of these places to get inspired and plan your trip.
San Juan de Gaztelugatxe

Very close to Bermeo, you can find one of the most iconic locations on the Basque Coast, which has become famous as one of the settings of the famous Game of Thrones series. Here you will find an islet with a small hermitage dedicated to San Juan, accessible by a narrow winding staircase from the beach. As you climb the steps one by one and approach the hermitage, the views will become more and more impressive, especially if you go at sunset. If you make it to the hermitage, don't forget to ring the bell three times, as it is supposed to bring you luck and scare away bad spirits.

Sakoneta and Mendata

This path will take you next to the sea, walking over several cliffs covered in green meadows. And among its nooks, you can discover small coves and beaches where you can take a swim if the weather is good. Here you can admire some very special rock formations, the Flysch. An incredible whim of nature that consists of sheets of rock created by the accumulation of sediments over thousands of years, which enter the sea in the form of ridges and leave behind a beautiful landscape found in few places in the world.

The Salto del Nervión waterfall

On this path, you will be able to discover the highest waterfall in the entire Iberian Peninsula. You will be left speechless on seeing a waterfall just over 220 metres high. As you cross a dense forest full of trees, you will hear the sound of water getting closer and closer, until the forest opens up, letting you see this gigantic waterfall. Before coming here, you must check whether the Nervión carries water since, if the river is dry, you will only find a large gorge without a waterfall. This is a must-visit place that will be forever etched in your memory. 

Itxina

Located in the heart of the Gorbeia Area Natural Park, Itxina is one of the most interesting massifs to walk around. Here you can explore what seems like an authentic labyrinth of chasms and caves that hide a large number of stories and legends from Basque mythology. A perfect place to let your imagination fly and get to know some of the key locations of traditional Basque culture. The start of this route is spectacular in and of itself: you will have to cross an incredible natural gate, the Ojo de Atxular, the entrance to this natural place full of mysteries and fantasy.
The Basque Country offers a large number of routes to explore while discovering some of its incredible landscapes. Routes near the sea or between mountains, through deep forests or under huge waterfalls. Whatever landscape you like, you can walk it here.