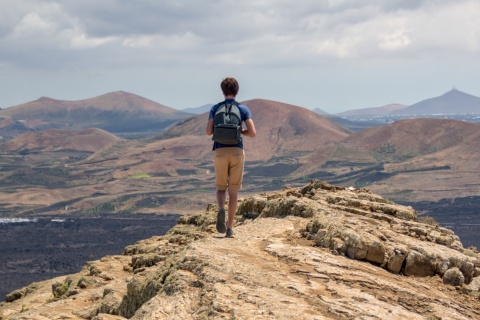 Walk between volcanoes and beaches with these routes through the Canary Islands
The Canary Islands are unquestionably one of the best hiking destinations you can choose. And not just for their unique landscapes and their routes for all walkers and tastes. Their enviable climate means that you can enjoy these walks throughout the year. Here are some of the most spectacular routes you can do between volcanoes and beaches.
Climb the highest peak in Spain: the Teide

Climbing 3,718 km above sea level is not an everyday feat, so if you plan to climb to the peak of the Teide volcano, read on. The first thing you will have to do is get special permission to access; then, you need to get ready and get the right gear. It's not an easy route: it extends along 17.7 km, from Montaña Blanca to the top, and back, which will take you around 10 hours. Best of all? The views along the way. You can even see native plants that cannot be enjoyed anywhere else; and, of course, the panoramic view from the top.A more comfortable alternative is to go up by cable car to La Rambleta, at 3,555 km, and then follow the Telesforo Bravo path to the top, or even follow some short paths to just enjoy the sea of clouds.

Access to Güi güi beach, Gran Canaria

The Canary Islands are also known for the beauty of their beaches, which is why there had to be a route ending with a relaxing swim. And if it is on a dream and almost exclusive beach, even better. Güi güi beach does not have easy access; there are only two ways to get there: by boat or on foot; and the walk is well worth it. Starting at Tasartico, you will have to walk about five kilometres of constant ups and downs and a steep slope between volcanic and arid landscapes. It takes about two hours to get there, and another two hours to return; but only after a well-deserved swim.

At the edge of the crater in Caldera Blanca, Lanzarote

The Caldera Blanca path, in Lanzarote, takes you to the top of a homonymous volcano whose crater measures 1,200 metres in diameter. The walk starts from the small town of Mancha Blanca and takes around half a day to complete. But it is a simple route, suitable even for families with children, which follows marked trails, a track and even a paved road.Once you reach the top, you will be speechless. Tip: the best panoramic view of the crater itself and its surroundings can be enjoyed by walking about 40 minutes along the edge of the volcano until you reach its highest point.

A green route on the volcanic island of La Palma

Don't let the green of this path make you forget the volcanic origin of the island. We are talking about the spectacular Marcos y Cordero path, in La Palma, which runs through dense laurel forests, water tunnels and deep ravines.The path is about 12.5 km long and runs parallel to the channel that collects water from the springs and travels through the great caldera of Marcos y Cordero. To get to the starting point, at Casa del Monte, you will need to take a taxi. The terrain is flat until you reach the water springs, then continues downhill. So you need to be in good physical condition. You must wear a head torch, a rain jacket and non-slip shoes, especially to walk through tunnel number twelve.