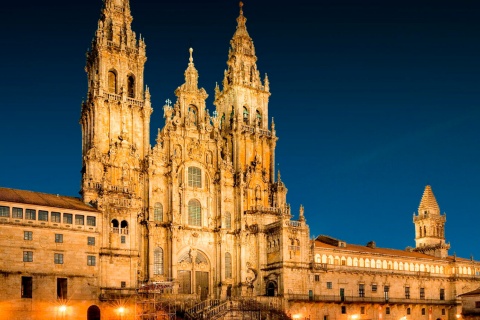 Santiago de Compostela, destination for a couple's getaway
Santiago de Compostela, in the region of Galicia (northern Spain) is well-known for the lively atmosphere of its pretty cobbled streets, full of pilgrims and students. It also has picturesque spots, great views and peaceful natural parks. And you'll always remember your holiday with pleasure. Would you like to see for yourself? Here are 7 reasons to visit.
Take the perfect photo

Medieval streets, ancient monasteries, beautiful gardens, grand mansions, graceful fountains… This city is full of perfect backgrounds for a romantic photograph of the two of you. Here are some inspiring examples from the Santiago de Compostela Tourist Office.

A stroll through evocative gardens

There are several parks in the city near the main sightseeing area, which are all great places for a leisurely stroll or a fun picnic lunch. We love the views from Parque de la Alameda and Parque de Bonaval, the charming maze of camellias in Parque de Belvís, the mystic air of Carballeira de San Lourenzo, and the young crowd in the university's Campus Sur park.

Sunsets to create shared memories

Praza do Obradoiro, where the Cathedral stands, is the square at the heart of Santiago de Compostela's heritage quarter. Some say its name means "made of gold", and the golden sunsets that fill the city with mellow light could be the explanation. You can see for yourself from Parque de la Alameda or from Monte Pedroso when the sun goes down. You can also enjoy beautiful sunsets from Monte de Almáciga, the Belvís viewing point, Praza do Obradoiro itself, or the Cathedral rooftop.

Experience happiness through taste

Whether you're savouring the delights of the sea, especially shellfish and octopus, or on a tapas tour of the rúas of the old town centre, nibbling sweet treats like Tarta de Santiago cake, or discovering the traditional empanada… in Galicia, happiness often arrives in the form of flavour. To enjoy it even more as a couple, visit the food market or Mercado de Abastos, where you can choose the ingredients to be cooked for you right in the market; learn new skills in cooking workshops; or sit down for a tasting menu dinner.

Discover the secrets of witchcraft

Let's get one thing clear: in Galicia, meigas (witches) are real. At least, according to a local proverb. Today, the myths and mysticism of the past are evoked in the magical ritual of the queimada. This is a potent brew based on local brandy and prepared over a fire as a spell is recited, which protects everyone who drinks it from witches and evil spirits. You'll often find this picturesque tradition after dinner in many restaurants, or on the Compostela Máxica route, which is organised by the Tourist Office on a regular basis. This experience includes a walking tour of the historic city centre at night, when it is even prettier and more romantic.

Swimming on the beach of the gods

These are the Cíes Islands, known since the Roman Empire as "the islands of the gods". They are extraordinarily beautiful, largely thanks to strictly limited access which has left them almost completely untouched by humans. To visit them, you'll have to go first to Cangas or Vigo (around an hour's drive from Santiago de Compostela) and take a boat, which must be booked in advance. Bear in mind that you also need to apply for a permit to visit the islands. Their best known beach is Praia das Rodas. But in any case, there are many beautiful, almost deserted beaches along the coast of Galicia.

Embark on a unique bonding experience

St James' Way or the Camino de Santiago is one of Europe's most popular pilgrimage routes, and it's a unique experience for people of any faith. Its endpoint is Santiago de Compostela Cathedral, and every day dozens of pilgrims arrive in the city. This is one reason for the friendly, open atmosphere you find everywhere on its streets. Once you start looking for scallop shells, the symbol of St James' Way, you'll see them everywhere, on roads, on heritage buildings, around the necks of many visitors - and they make an excellent souvenir of the city.
What to do
Travel plans for inspiring you
---