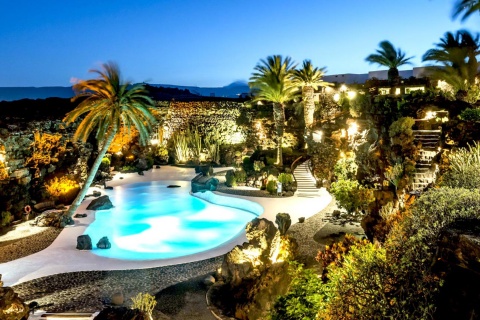 Lanzarote: the island designed by César Manrique
When nature and art combine
---
As soon as they set foot on Lanzarote, travellers know they are somewhere special: its volcanic landscapes are unlike anything they have ever seen, there are no tall buildings, vineyards flourish in craters, and everything is full of a strange beauty. Nobody but César Manrique could have captured the essence of this unique island, producing a dialogue between nature and art. This artist, born in the Canary Islands, was the main creator of most of the art, culture and tourism centres that now exist on Lanzarote. Eight fascinating places based on sustainability, worth taking your time to experience.
Los Verdes Cave

So much is unexpected about this cave - its volcanic origins as one of the world's longest lava tubes, the many legends associated with it, the fact that people used it to hide from pirates, and the way the artist Jesús Soto (who worked with Manrique) adapted it for visitors… But perhaps the most surprising thing is something we can't show you here, you have to discover it for yourself on the guided tour… Concerts are often held in the auditorium, creating a unique experience.

Jameos del Agua

This is also inside a lava tube. This place created by Manrique offers an unusual route: descending via a stone spiral staircase to discover a magical spot full of plants and a natural lake inhabited by a unique species of blind crabs, then going on to another oasis outside. This experience for the senses is completed by a spectacular auditorium and a restaurant. It is worth going to one of the concerts with a DJ by the lake at night.

Mirador del Río viewing point

Over 400 metres high, this is one of the most impressive places César Manrique created for the island. Sculptures and large windows are combined with outdoor terraces. Gazing from this lofty height at the strip of sea between Lanzarote and the little islet of La Graciosa gives a rare feeling of freedom, and the breeze up here is delightful. It is the perfect combination of nature and architecture.

Cactus Garden

Here you can find around 7,200 specimens of over 1,100 different cactus species from all over the world, some of amazing size. It's an intriguing place for a quiet stroll along pebble paths at the foot of the island's only corn mill. This was the last major work by Manrique on Lanzarote.

Monument to Farm Workers

This is a homage by Manrique to the farmers of Lanzarote who produce the island's food and wine. As well as the set of buildings in the style of traditional dwellings, there is a striking Monument to Fertility: a 15 metre sculpture created with old water tanks from boats. This is a good spot for buying local crafts.

MIAC – Castillo de San José

On the top of a cliff stands this 18th century castle which thanks to César Manrique was converted in 1976 to become the International Contemporary Art Museum (MIAC). A restaurant, also created by the artist was added where you can enjoy avant-garde cuisine with spectacular views of the bay.

Montañas de Fuego – Timanfaya

The poetic desolation and beauty of this land which emerged from the volcanic eruptions of 1730 and 1736 are like nothing on earth. Travellers can explore this National Park on the Volcanoes Route in special vehicles and see, for example, 25 dormant craters. Typical of his wit, here Manrique created the restaurant El Diablo, which cooks its dishes using the natural heat coming from the ground.

Atlantic Museum

This is the latest addition to these very special places. It's no ordinary museum. In fact… it's 12 metres deep in the Atlantic Ocean. In other words, to visit it you need a wetsuit. Once you're below the surface, you can see the sculptures created by the artist Jason deCaires Taylor and take some underwater photography. It feels like an unreal world.