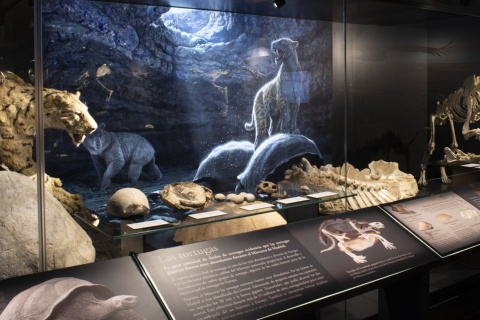 Archaeological and Paleontological Museum of the Region of Madrid
The museum takes visitors on a journey through the past of the Region of Madrid, from its first inhabitants through to the 18th century.
The collection echoes the history of Madrid through the remnants that the past has left behind. It therefore covers the evolving landscape and fauna of the region until the arrival of the first settlers, including depictions of how they lived, followed by the first producing societies, the Roman occupation, the Middle Ages and the eventual transfer of the Spanish Court to Madrid from Valladolid. There is also a section dedicated to archaeology as a science and its presence in the Region of Madrid.The museum is located in the old quarter of Alcalá de Henares, awarded the World Heritage designation by the UNESCO. The venue is the Dominican Convent of the Mother of God, one of the largest convent complexes in the city and whose rich history is also explained in the museum.
Archaeological and Paleontological Museum of the Region of Madrid
---
Plaza de las Bernardas s/n
28801 Alcalá de Henares, Madrid (Madrid Region)