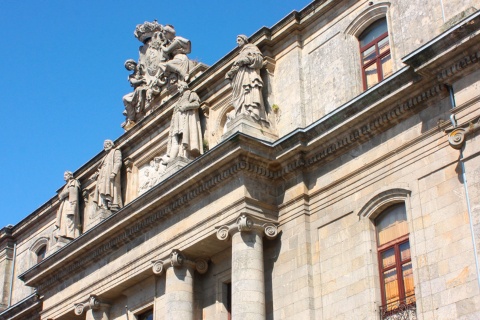 Geography and History Faculty, University of Santiago de Compostela
A building with magnificent rooms.
---
Built in the 18th century, the University building has been extended several times, even though today it only houses the Faculty of Geography and History.
Its current appearance was completed at the end of the 18th century and was designed by the architect Melchor de Prado. Later an old Jesuit college was installed here and another floor was added. Today the most magnificent of all buildings is Compostelana University and its rooms include the Central Hall (decorated with frescoes by Fenollera and González), the Rectorship (with a fabulous 17th century stall), and the Libraries. Today this building houses the Faculty of Geography and History and the Galician Language Institute.
Geography and History Faculty, University of Santiago de Compostela
---
Plaza de la Universidad, 1
15782 Santiago de Compostela, A Coruña (Galicia)