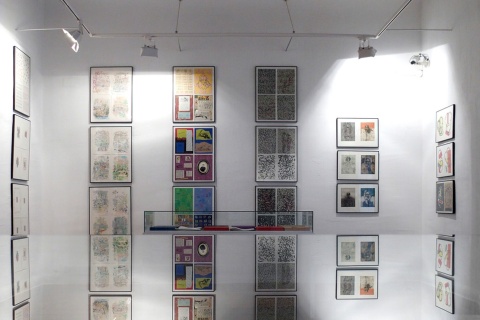 Cuenca Contemporary Art Centre
Located in the historical centre of Cuenca, a World Heritage City, in an impressive 17th-century building, the Antonio Pérez Foundation's Cuenca Museum of Contemporary Art brings together a large sample of styles and currents, such as informalism, abstraction or pop art, with works by prestigious national and international artists.
With more than 50 rooms, the museum houses an extensive collection of pieces that explores the development of contemporary art from the mid-20th century to the present day. Established creators such as Antonio Saura, Andy Warhol, Manolo Miralles, Rafael Canogar, Carmen Calvo, Equipo Crónica, Luis Gordillo and Fernando Zobel, among many others, are represented in the centre's collection, all united by a common bond: their friendship or collaboration with Antonio Pérez. Also, the museum exhibits new proposals by emerging artists through temporary exhibitions. One of the most fascinating aspects are the "Found Objects" by Antonio Pérez himself, which complement the paintings and sculptures on display. In addition to the Cuenca Contemporary Art Centre, the Antonio Pérez Foundation has other cultural venues in San Clemente (Museum of Graphic Work), Huete (Museum of Photography) and Sigüenza (La Plazuela Art Centre).
Cuenca Contemporary Art Centre
---
c/Julián Romero, 20
16001 Cuenca (Castilla-La Mancha)