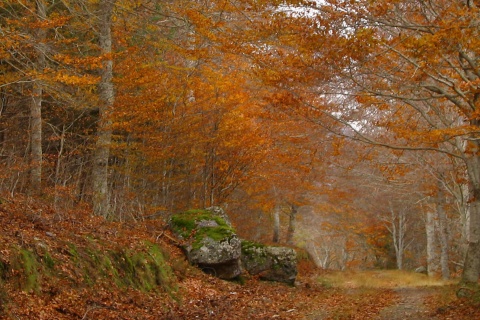 Moncayo Nature Reserve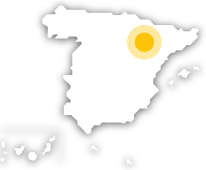 The Moncayo is the highest in the Iberian mountain range (2,373 metres) and has diverse landscapes: from glacier remains on the hilltop to deep forests of beech, kermes oak, oak, pine and juniper trees on its mountain sides.
The park forms a part of the Mountain of Moncayo and belongs to the township of Tarazona. Located in the province of Zaragoza and acts as a frontier between the communities of Aragon and Castilla-Leon. Is a transition zone between the climate of the sunken area of the Ebro and the Sorian meseta.Its particularities are:milld and short summers, with rain storms, and long, cold winters. The Moncayo has something original in the vegetation of the Aragonese Iberian mountain range because it is the only massif that has staggered plant formations.Here there are holm oak and aleppo pines up to 900m, Pyrenean oak groves between 900 and 1,100m, pines up to 1,800, beech trees up to 900 and 1,650m, and meadows from 1,800m. The fauna in this Park is abundant:rabbit, partridge, fox, wild boar, robin, badger, roe deer, golden eagle, goshawk, etc.
Moncayo Nature Reserve
---
Plaza de San Francisco, 1
50500 Tarazona Tarazona, Zaragoza (Aragón)
Useful information
What you need to know
---
Cultural information

The area of Tarzona has inherited Mudejar architecture, reflected in the Church of Santa María Magdalena, a beautiful sanctuary, and the Gothic Cathedral.

Environmental information

The vegetation is staggered. The beech tree groves grow between 1,100 and 1,650 metres and are the most important in Spain.

Information for visits

You can get there on the N-122 from Zaragoza and also on the N-121 from Tudela. Routes through Tarazona and Moncayo Guided tours