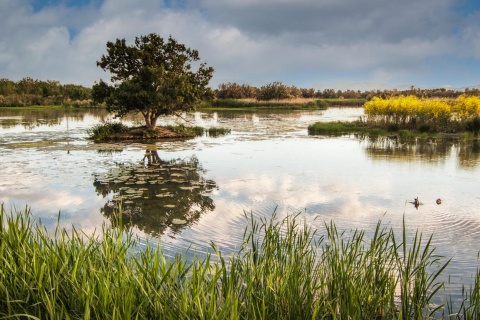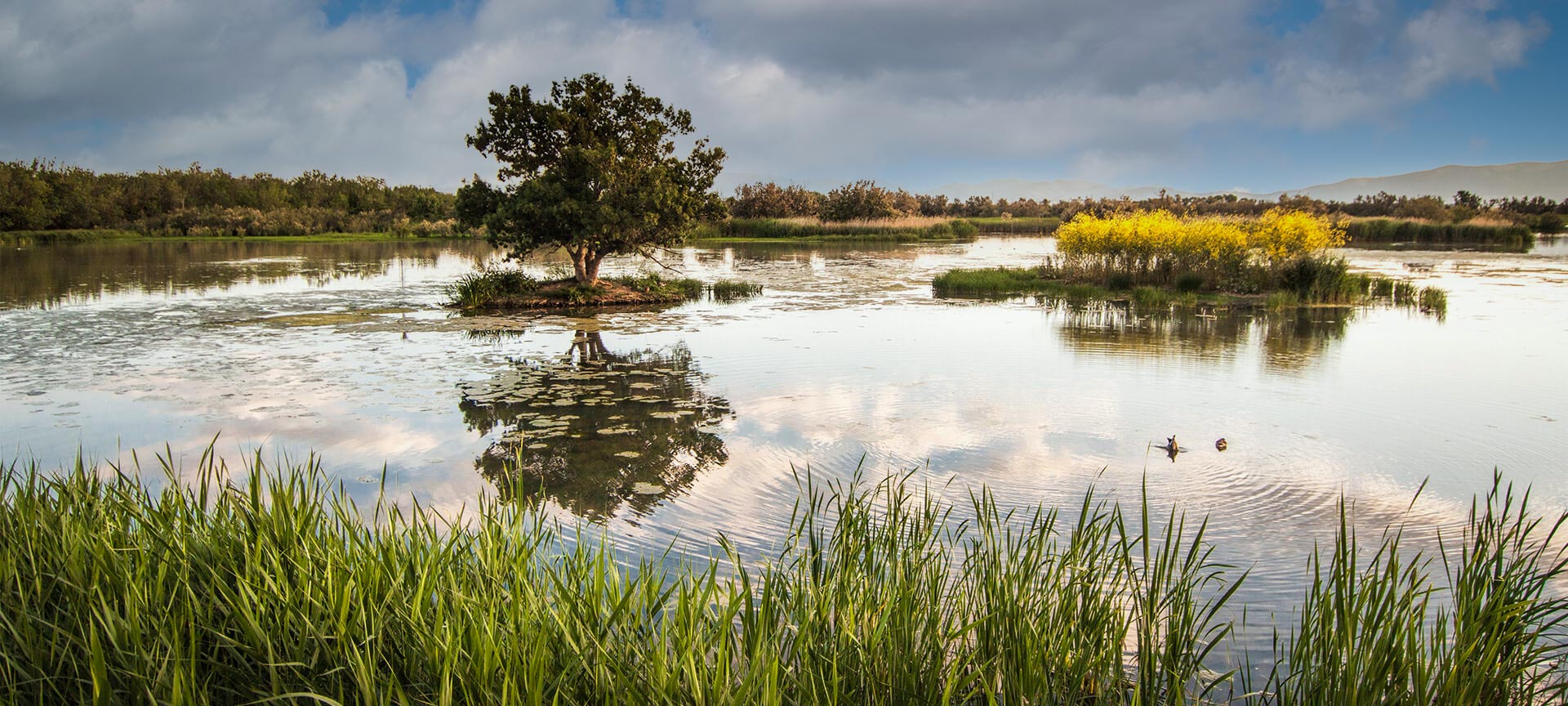 Aigüamolls de L'Empordà Nature Reserve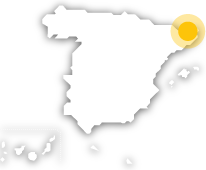 The Reserve is a diverse ensemble of ecosystems in which many animal species live, especially birds.
The Reserve includes three Nature Reserves: Le Llaunes, les Estanys and Illa de Caramany. It is located in the district of Alt Empordà, in Roses Bay, between the mouths of the rivers Muga and Fluvià. Amid the vegetation wild species and crops are mixed.Thus, we find paddy fields and pastureland alongside reedbeds, typhas and meadows with yellow lilies.With respect to the birds, over 320 different species have been recorded, in particular the mallard, little bittern, bittern, stork, garganey, gallinule, marsh harrier and the lesser grey shrike (this being one of only two Spanish colonies). The reserve is also the wintering place of thousands of cattle egrets, mallards, lapwings, etc. The otter and the polecat are the largest mammals living there, and of the fish we can cite the carp, eel and grey mullet. The toothcarp and stickleback are species noted for their rarity.
Aigüamolls de L'Empordà Nature Reserve
---
GIV-6216 (ctra. Sant Pere Pescador-Castelló d'Empúries) km 4,2
17486 Castelló d'Empúries, Girona (Catalonia)
Useful information
What you need to know
---
Cultural information

In the surrounding areas you can discover towns boasting a great wealth of culture, art and monuments, for example Roses.The archaeological ensemble of Empùries, of Greek origin, stands near the Reserve.

Environmental information

The Reserve is a magnificent example of the coastal wetlands of the Mediterranean littoral.It combines salt water wetlands, fresh water ponds, reedbeds and dunes that become a place where a large number of bird species spend the winter and nest.In fact, the reserve comes under the Ramsar Agreement for the protection of wetlands.

Information for visits

Visits are arranged through the Visitor Centre located in the old Cortalet farm, between Sant Pere Pescador and Castelló d'Ampuries.