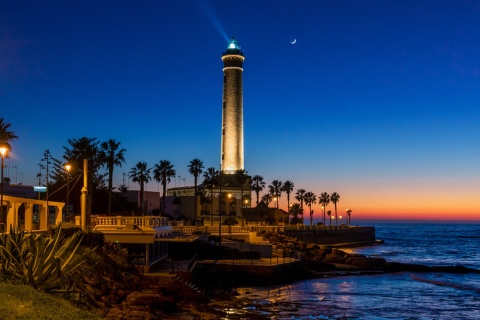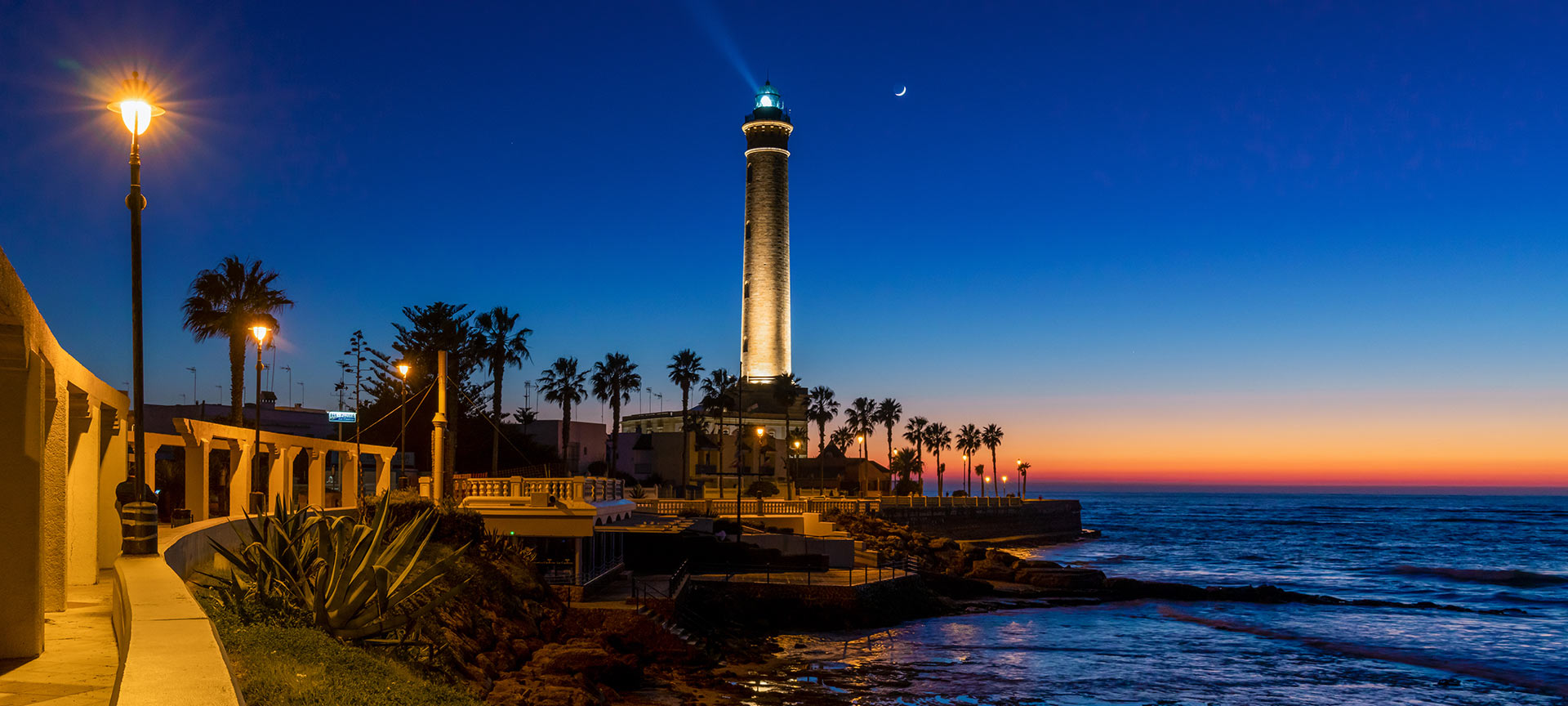 Route through some of the most popular lighthouses in Andalusia
You might want to walk among boats stranded in the sand and sea-facing colourful houses, and smell the salt of the fishing villages on the coast of Andalusia. From Costa de la Luz to Coast of Almería, the tradition and seafaring spirit of some of these towns shine bright, especially at night. When lighthouses serve their most primitive purpose: to guide lost sailors or those who wish to return home. Would you like to discover some of the lighthouses of the Andalusian coast?
Cabo de Gata lighthouse, Almería

In the most south-eastern area of Spain you can find the Cabo de Gata-Níjar Natural Park, in Almería. A lighthouse was built here in 1863 on the ruins of the old castle of San Francisco de Paula. It was meant to help to mitigate the dangers posed by the Laja del Cabo reef to ships, since it caused numerous shipwrecks.Since then, the lighthouse illuminates the coast from the top of a cliff approximately 50 metres tall. At the foot of the lighthouse, the views are just as incredible, from the Sirenas viewpoint. From there, you can observe the remains of the volcanic chimneys of this reef.

Trafalgar Lighthouse, Cadiz

Visiting Barbate means soaking up the customs of the fishing villages. For example, strolling among the boats docked at the dock, trying a portion of fish at the port market and enjoying Barbatean gastronomy in its beach bars.This beautiful town in Cadiz boasts the impressive La Breña and Marismas del Barbate Natural Park, and Cape Trafalgar. The latter was declared a natural monument and, to this day, its legendary Trafalgar lighthouse continues to guard the coast. A white tower surrounded by a small desert of golden dunes, which still keeps the memory of a historic battle, buried at the bottom of the sea.

Chipiona Lighthouse, Cadiz

Chipiona lighthouse is one of the greatest symbols of this city. The current structure was inaugurated in 1867 at Punta del Perro, so that ships could avoid the reef near the mouth of the Guadalquivir river.At approximately 70 metres high, it is the tallest lighthouse in the country, as well as the third in all of Europe and the fifth in the world. The path to its light is made up of more than 300 stone steps that wind into an eternal spiral staircase.

Torrox Lighthouse, Malaga

On Costa del Sol, Torrox is a small protrusion crowned by a white giant: the Torrox lighthouse. Around it, you can find one of the most important Roman archaeological sites of Malaga, on the remains of the Roman town of Caviclum.After your visit to the lighthouse, you can take a walk through the narrow streets of Torrox, flanked by white houses and the colourful flowers hanging from their balconies.