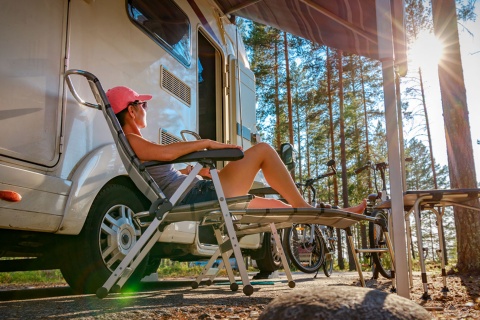 Murcia by road: discover its countryside in a motorhome
Who wouldn't love to tour Murcia's Costa Cálida in a motorhome? If this sounds like a great holiday to you, you can find out more about the coastal towns of Murcia here. But the region's inland areas are well worth seeing too! Murcia's country towns and villages are bursting with history and fine architecture in lovely natural surroundings. Some of these offer areas for motorhomes to park overnight. Want to find out more?
Caravaca de la Cruz is a perfect destination for rural tourism: a place of pilgrimage with a significant religious history, as well as natural spots for hiking and other outdoor activities. You might want to visit the springs at Fuentes del Marqués or the 78-kilometre Vía Verde route that follows the path of the old railway that used to run between Caravaca and Murcia.Known the world over as one of the six holy cities of Christianity, the basilica of the Royal Alcázar of Vera Cruz is home to the famous Caravaca Cross. In the city, you can find other religious heritage buildings such as the churches of El Salvador and Purísima Concepción, the Convent of Nuestra Señora del Carmen, and the Church of San José. The latter two are sanctuaries on the pilgrimage routes of St Teresa and St John of the Cross.Caravaca de la Cruz offers parking areas for motorhomes where you can spend the night free of charge (for example, on Calle Pabellón). 

Totana and Mula

Totana and Mula are municipalities in the Sierra Espuña, renowned as an ecotourism destination with a natural park that offers a wide variety of vistas.Totana is a town with a crafting tradition that usually holds a handicrafts market on the last Sunday of each month (open from 10 am to 2 pm). You can also take a walk around the workshops in the old pottery-making district of Las Ollerías or the 18th-century mansions in the historic town centre.The beautiful landscape around Totana is just begging to be explored on foot, and you can admire it from the Virgen Blanca viewpoint. In this town, you'll discover the important La Bastida archaeological site, as well as market gardens and groves of oranges, lemons and almonds surrounding one of Totana's greatest treasures, the Santa Eulalia Sanctuary (seven kilometres outside the town). The town of Mula is notable for the rich heritage of its historic centre, including the Royal Monastery of La Encarnación and Vélez Castle. And if you want to go for a dip in natural surroundings, you might enjoy a swim amidst the landscapes that surround the Fuente Caputa lake.If you visit either of these locations, some 40 minutes apart, you'll be able to spend the night in Mula. Here, you'll find free parking for motorhomes just 500 metres from the town, with a number of spaces available for a maximum of two days.

Cieza and Ricote

The landscapes around Cieza are especially stunning at one particular time of year: spring. If you visit then, you'll see the blossoming peach trees tint the whole valley in shades of pink. This spot is also popular for its cave paintings and the archaeological site of Siyâsa, a UNESCO World Heritage Site. And if you're looking for excitement, you could even take on the descent into the Almadenes canyon (not too far from Cieza).A few short kilometres from Cieza you'll find Ricote. This is a small village surrounded by nature where a stroll through its historic centre will reveal churches, convents, hermitages, a mansion and a castle. Ricote offers a place for motorhomes to spend the night, just half an hour from Cieza, with a total of around 30 spaces. It's completely free, although there is a maximum stay of two days. If you'd like to travel with views of the Segura river and sprawling fields of crops from the window of your motorhome, plan your route to take in the rest of the villages that make up the Valle de Ricote (Archena, Ulea, Ojós, Abarán and Villanueva del Río Segura).
What to do
Travel plans for inspiring you
---