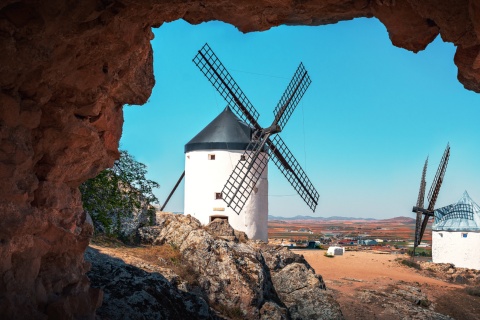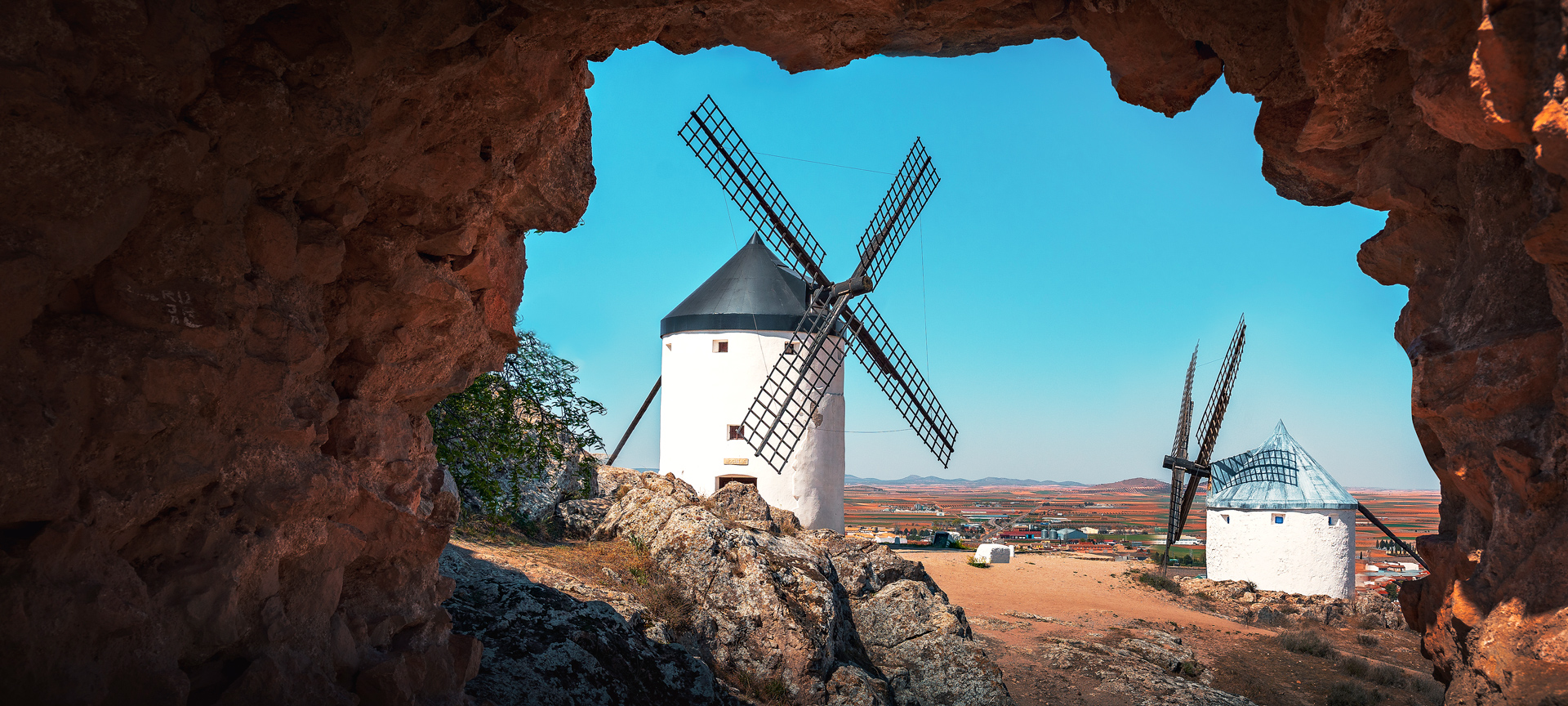 A walk through the windmills of Spain, in Castile-La Mancha
How would you like to be able to visit the most famous giants of the Quixote? Even if it surprises you, you can do it in Castile-La Mancha, because the giants in the story by Miguel de Cervantes were nothing more than beautiful white windmills in reality. An area where you can discover a large number of mills moved by the force of the wind, since rivers are not abundant. What are you waiting for?
Consuegra

Not far from the city of Madrid, in the province of Toledo, you can find one of the best places to enjoy windmills. Twelve mills are still preserved here, the location with the highest number of wind mills, just above the Cerro Calderico. They have been standing since the 19th century and all are preserved, except for one, since originally the ensemble was made up of 13 mills. You will find 5 mills with intact machinery, one with a tourist office inside and another where you can enjoy local products. 

Campo de Criptana

Another large set of mills, 10 (up to 34 in the past), is found in the province of Ciudad Real. In this case, some of them are older than others, some date from the 16th century while the most modern ones were built around 1900. In these more recent mills you can enjoy various services and places of interest, such as several museums: Sara Montiel Museum, Wine Museum, Poetry Museum and Farming Museum. You can also find some bars and restaurants nearby where you can enjoy a beautiful sunset while the windmills turn orange.

Mota del Cuervo

One last place to see beautiful white windmills in Castile-La Mancha, in the province of Cuenca, Mota del Cuervo not only known for these constructions, but also for its pottery tradition, which you can enjoy in its dedicated museum. On a small hill that rises behind the village, you can see seven windmills; these are newly built, from 1960, but still charming. Even so, if you want to discover an authentic mill you can do it, since one of them is original. This windmill is nicknamed "the lefty" (zurdo), and is known for being the only one that turns counterclockwise. These are just some of the places in Castile-La Mancha where you can enjoy the wonderful giants of the work of Miguel de Cervantes, beautiful white windmills that move to the rhythm of the wind and that will undoubtedly leave you with an unforgettable memory.
What to do
Travel plans for inspiring you
---