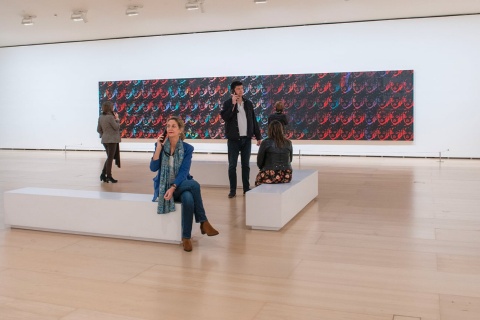 The Guggenheim Museum, an accessible way to enjoy art
This museum in Bilbao might well be one of the best known outside Spain. The large museum space with that striking, iconic design created by architect Frank O. Gehry first opened its doors in 1997. Here you'll find famous sculptures such as Puppy, a West Highland terrier covered in flowers, and Maman, a spider that reaches a height of almost nine metres, which are a target for the cameras of tourists wanting to immortalise their memories of the Basque capital. Aside from all this, and the interesting exhibitions that you'll find inside, the Guggenheim is a museum that's fully accessible for everyone. Want to find out how?
Guided tours

A great way to discover all the secrets of the works on display at a museum such as this one is to have someone accompany you during your visit, providing you with detailed information and answering all your questions as you make your way through its corridors. To ensure that art at the Guggenheim is accessible for all, it's possible to book guided visits in sign language, tours that are adapted for those with intellectual disabilities, and also touch tours for the blind.

Exclusive and accessible areas

The museum space is designed to be fully accessible for all: it has spacious lifts, wheelchairs can be requested at reception, and the toilets are fully accessible; there is even a portable chair service so that visitors can sit down and rest when they need to. What's more there are also many areas that have been specially adapted, such as the Auditorium where there are spaces reserved for wheelchair users, and that are equipped with an induction loop, a technology that allows an audio signal to be perfectly transmitted to hearing aids.  

Supplementary materials for the visit

Today many museums and places of tourist interest offer audio guides, small devices that lead visitors through the rooms, providing timely information on the works exhibited. In addition to this service, the Guggenheim also has video guides in sign language or with subtitles, as well as descriptive audio guides that enable the visually impaired to enjoy both the space and the works on display.

Scale models

One of the most striking aspects of the space are the sculptures that surround it, and the building itself, designed by renowned architect Frank O. Gehry; these have become true icons of the city of Bilbao. So that the visually impaired can enjoy these creations too, scale reproductions, created specifically to be discovered through touch, are available at the museum, enabling everyone to enjoy their shapes and contours.
As you can see, the Guggenheim Museum is designed in such a way that disability is not a barrier to enjoying the facilities and works of art; being fully accessible to everyone is one of the key aims of this cultural space. So, what are you waiting for, come and immerse yourself in everything that this place has to offer.
What to do
Travel plans for inspiring you
---