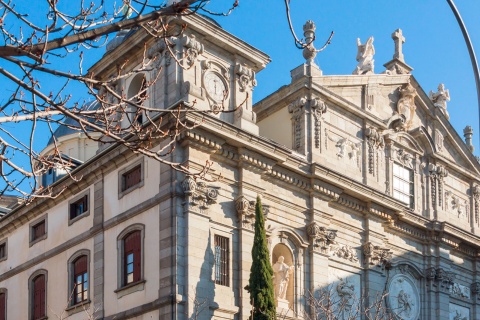 Parish church of Santa Bárbara (convent of the Salesas Reales and former Royal Monastery of La Visitación)
Founded by Queen Bárbara de Braganza, the wife of King Ferdinand VI of Spain, the convent building is today the site of the Spanish Supreme Court.
The monastery, founded as a school-residence for young nobles, was subsequently readapted for use as a courthouse. Its church is today the parish church of Santa Bárbara. The original design by Carlier and Moradillo featured a Baroque-Rococo architectural complex. The church is builtt of brick and masonry work and has a main facade in the form of a triple portico with a pediment and towers at the sides, with sculpted reliefs by the Italian craftsman Olivieri, and by Alfonso Giraldo. The most interesting features of the church are the tombs of the founding Queen and her husband Ferdinand VI, designed by Francisco Sabatini in marble and porphyry, and made by Francisco Gutiérrez and Juan de León. This is also the site of the tomb of General Leopoldo O'Donnell, worked in Carrara marble by Jerónimo Suñol Pujol (1870s).  
Parish church of Santa Bárbara (convent of the Salesas Reales and former Royal Monastery of La Visitación)
---
Calle General Castaños, 2
28004 Madrid (Madrid Region)