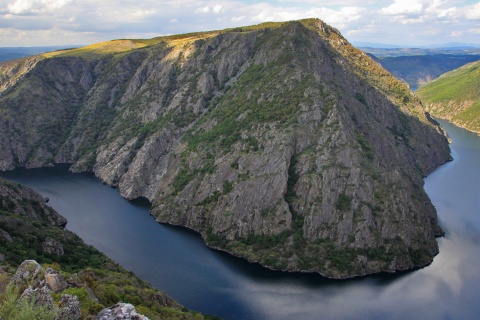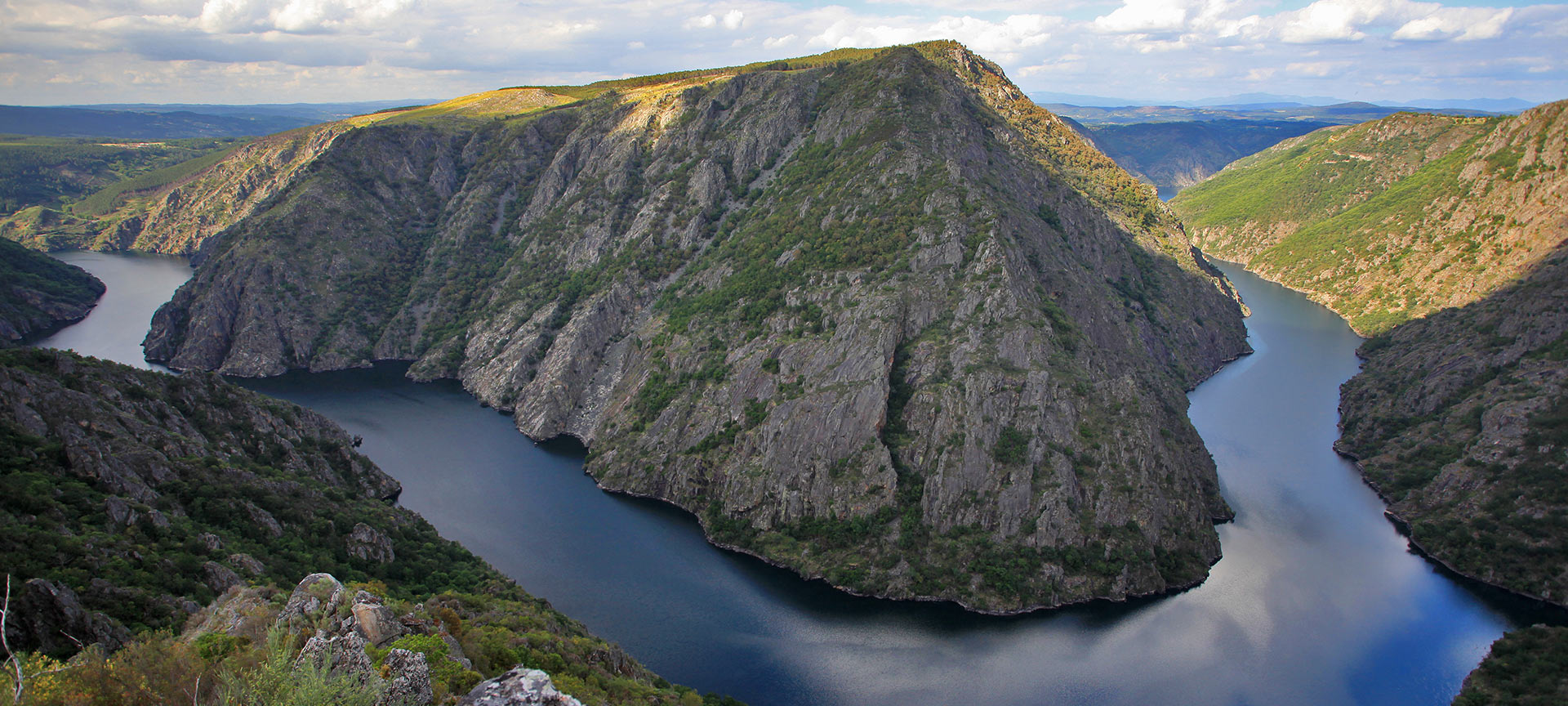 Ribeira Sacra e Serras do Oribio e Courel Biosphere Reserve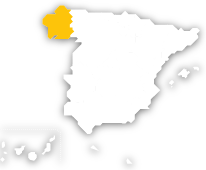 This spectacular area of 306,534 hectares in Galicia, on the border of the provinces of Lugo and Orense, is now a Unesco Biosphere Reserve. As well as the natural beauty of the gorges formed by the rivers Sil and Miño, this area is known for its stunning waterfalls, its Romanesque monasteries, and its unique terraced hillside vineyards.
There are many ways to enjoy the Ribeira Sacra. One of them is to walk along its various hiking trails to reach one of over 30 viewing points and see a unique panoramic view of the gorges, with cliffs up to 500 metres high. Along the way, you'll discover some of the monasteries hidden among the lush woodland. In fact, one of the reasons the Ribeira Sacra has been declared a Biosphere Reserve is because it is an exceptional site, bearing witness to the first documented monastic community in western Christendom.Another great way to explore the area is taking a river tour, following the course of the Sil or the Miño on board a catamaran.You can also taste some of the excellent wines produced here. The Romans first began cultivating terraced vineyards on the sides of the gorges, creating what is now known as "heroic viticulture". You can visit local wineries, the Wine Centre in its 18th-century building, or take a tour on the Viñobus.
Ribeira Sacra e Serras do Oribio e Courel Biosphere Reserve
---
Galicia
Lugo (Galicia):
Taboada
Chantada
Carballedo
Ribas de Sil
Quiroga
Pobra do Brollón, A
Bóveda
Paradela
Saviñao, O
Pantón
Sober

Ourense (Galicia):

Nogueira de Ramuín
Peroxa, A
Esgos
Xunqueira de Espadanedo
Montederramo
Castro Caldelas
Parada de Sil
Teixeira, A
Useful information
What you need to know
---
Cultural information

This unique natural landscape includes 23 towns, with historic sites such as Chantada, Monforte de Lemos, and Portomarín. It's worth taking time in each of them to discover chapels, tombs carved into the rocks, castles, pazos, and above all the famous Romanesque monasteries, convents, and churches. The Ribeira Sacra area boasts the highest concentration of rural Romanesque architecture anywhere in Europe.Don't miss monasteries like San Pedro de Rocas, Santa Cristina de Ribas de Sil, or Santo Estevo - you can even stay in this last one, as it is now a Parador de Turismo.

Environmental information

The impressive gorge of the river Sil, the peaks of the Montañas do Courel Geopark, and the birch forest of Montederramo are some of the most beautiful landscapes in the Ribeira Sacra. We also recommend walking along the hiking route of the Mao river gorge, with a system of wooden walkways.This area is rich in wildlife and plant species. You'll find the oaks and chestnut trees typical of Atlantic forest landscapes, and the much more Mediterranean cork oaks and strawberry trees. Notable wildlife species include large birds of prey such as peregrine falcons, black kites, and golden eagles, which find the sides of the gorges to be perfect nesting sites.

Information for visits

You can get plenty of information on the area in the local Tourist Offices in Monforte de Lemos, Castro Caldelas, Quiroga, Pantón, Sober, Parada de Sil, Os Peares, Nogueira de Ramuín, Carballedo, Chantada, Xunqueira de Espadanedo, Esgos, Montederramo, and Portomarín.There are specialist companies organising personalised tours, and you can download maps, see recommended routes and get suggestions on accommodation and restaurants on the official website of Ribeira Sacra.Other types of active tourism are available, such as kayaking along the rivers, and you'll find information on mountain bike routes at the Centro BTT Ribeira Sacra.