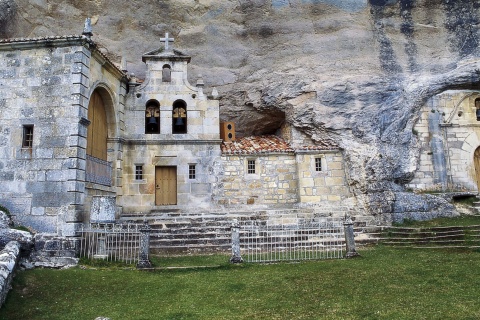 Ojo Guareña Caves Natural Monument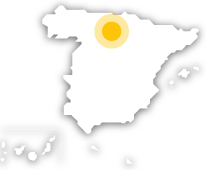 Ojo Guareña Caves Natural Monument
---
This is one of the largest karstic monuments in Spain.
It is extremely beautiful, and is the ideal site for caving, as well as being home to numerous species of invertebrates which are unique throughout the world. The Ojo Guareña Caves complex is in the north of the province of Burgos, between the districts of Merindad de Sotoscueva, Espinosa de los Monteros and Merindad de Montija. It consists of 18 main caves with over 100 kilometres of interconnected underground galleries which form a vast labyrinth inside the earth. The caves have exceptionally interesting geological formations, and are also an extremely important archaeological site; findings have included rock paintings, engravings, pottery remains and utensils from the Middle Paleolithic era through to the Middle Ages. Of particular interest are the caves known as the Painting Room, the Kaite Cave, the Water Spring Room, as well as the prints of bare feet, dating from 15,000 B.C., in the Hall of the Footprints.  
Ojo Guareña Caves Natural Monument
---
Visitor Centre at the Ojo Guareña Natural Monument
Norte de Burgos, Ctra. BU - 526.
09568 Quintanilla del Rebollar, Merindad de Sotoscueva, Burgos (Castilla y Leon)
Burgos (Castilla y Leon):
Merindad de Sotoscueva. Espinosa de los Monteros. Merindad de Montija.
Useful information
What you need to know
---
Cultural information

One of the main galleries of Ojo Guareña is the Cave and Shrine of San Bernabé, which was an important cultural, religious and administrative centre in the past. Visitors can take a guided tour of the interior, containing rock engravings and popular paintings dating from the 18th and 19th centuries, among other elements.

Environmental information

This rock complex lies between two distinct climatic zones (Atlantic and Mediterranean) and is surrounded by a diverse landscape of mountains, forests, pastures and small valleys. The area is home to numerous mammals, including wild cats, genets and roe deer; and nesting birds such as eagle owls, peregrine falcons, goshawks, golden eagles and griffon vultures. However the most important fauna is to be found inside the caves, where so far up to 115 species of cave-dwelling invertebrates have been discovered, of which 16 are endemic to Ojo Guareña.

Information for visits

This natural space can be explored at length by taking any of several hiking routes with different levels of difficulty and suitable for all kinds of public. There is detailed information available at the Reserve's Visitor Centre.