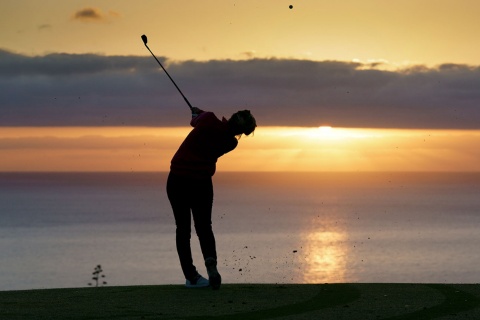 In the Canary Islands you can play golf in the summer and all year round
Did you know that you can play golf all year round in the Canary Islands?With an average yearly temperature of 22ºC, there's no winter, no bad weather and no bad tempers in the Canary Islands. There's just the very best climate for playing golf.
4

Play on courses designed by experts

Miles and miles of greens. Exciting championships. And top international golfers are waiting for you. You'll play in authentic valleys. Designed by professionals such as Mackenzie Ross and Von Hagge. That blend in beautifully with the landscape. So that you can enjoy every single moment, and lose yourself in your favourite sport. And on the incredible beaches the islands have to offer.

4

You'll even touch volcanoes

You'll discover lava fields, cacti and palm trees. One example is the Costa Teguise Golf course, located in a dormant volcano in Lanzarote. Pitch & Putt at the Hesperia Playa Dorada, right by the refreshing Papagayo beaches. And Lanzarote Golf has incredible views out over the Atlantic Ocean.

4

Discover oases where you can recharge those batteries

An authentic taste of paradise. Full of lakes and bunkers. Discover Golf Las Américas in Tenerife, and its 18-hole course designed by John Jacobs, one of the best-known names in the golfing world. Out on those broad greens, once you start you won't be able to stop.

4

You'll discover where that passion comes from

You'll fall in love with the oldest golf club in the whole of Spain: the Real Club de Golf de Bandama, located in Gran Canaria. A unique space since 1891. A real landmark. With circuits to satisfy the needs of golfers at all levels. Facilities with caddies, instructors and everything you could possibly need.
Let everyone know you've been lucky enough to play golf in the Canaries. Feel the magic of that first day again. More than seven islands are out there waiting for you.
What to do
Travel plans for inspiring you
---