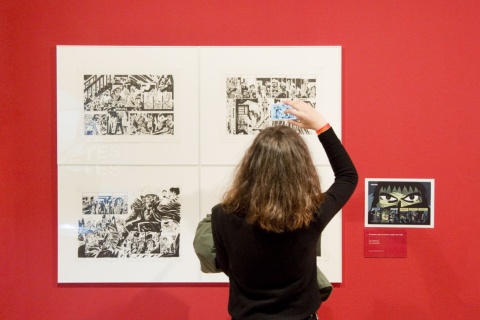 Visit the most artistic areas of Barcelona: museums, galleries and architecture
Art can be represented in many ways and in countless styles. Spain boasts diverse artistic expressions thanks to its cultural richness. Although any big Spanish city will showcase important works by renowned artists, Barcelona offers a range of possibilities in its great art galleries. 
Art in Montjuïc

A walk through Barcelona can take you to spaces where you can experience artistic works. Your first stop may be in the immense Plaça Espanya area. Walking along the Avenida de la Reina Maria Cristina you will see the famous Font Màgica de Montjuïc, which creates a water curtain and gives a mysterious touch to the iconic 1929 neo-baroque building of the National Palace of Montjuïc. The palace currently houses the MNAC (National Art Museum of Catalonia). If you are passionate about Romanesque art, the first great architectural style of the Middle Ages, you will love its gallery, one of the most complete galleries in the world. Also, the MNAC features outstanding paintings by artists like El Greco, Zurbarán, Casas, Dalí and Picasso.

Art in El Raval

On the Rambla del Raval, El Gato de Botero welcomes you to the neighbourhood housing most museums and art galleries in Barcelona. Its streets are a mixture of history with old cobblestones dating back to the 1700s until you find modern buildings showcasing exhibitions of contemporary art and culture. Walking, you will find a square full of young people riding skateboards right in front of the well-known MACBA, Museu d'Art Contemporani de Barcelona, dedicated to contemporary art. And nearby you have the CCCB (Centre for Contemporary Culture), one of the most visited cultural centres of urban culture and exhibitions in the city. In Sala Mirador, an iconic glass façade shows a large part of the city from privileged views.

Art in El Guinardó

In one of the newest urban areas of Barcelona, you find the Sant Pau Art Nouveau site. Its history begins in 1401 when a decision was made to build the Hospital de la Santa Creu, merging six hospitals in Barcelona. A magnificent project that has become the most important art nouveau site in Europe: its architectural and cultural value was recognised internationally in 1978 by the UNESCO and declared a World Heritage Site in 1997 on the strength of its beauty and its construction uniqueness. Although the building is a work of art in itself, it houses cultural exhibitions that speak of history from an artistic point of view. 
What to do
Travel plans for inspiring you
---